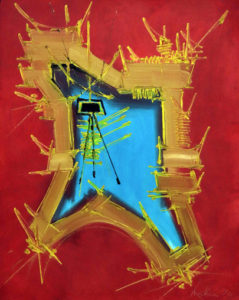 WHAT MICHEL ESTADES SAYS:
Georges Mathieu was a militant artist, convinced of the importance of education in society, who asserted that artists should not live in ivory towers. He was the founder of Lyrical Abstraction: a new aesthetic movement devoid of constraints and unencumbered by past or present artistic conventions.
Biography:
Education
Georges Mathieu was born in Boulogne-sur-Mer (Pas-de-Calais). He studied Literature, Law, and Philosophy at the University of Lille, and graduated with a degree in English in 1941.
He created his first oil paintings in 1942. Before starting his artistic career, he worked as an English teacher for a few years at the Douai high school and as a French teacher at the American University of Biarritz in 1945. He was among the first artists in France to react vigorously against geometric abstraction. In 1947, he organized a series of protests in favor of art free from all classical constraints, He called it "Lyric Abstraction", and promoted it actively.
He exhibited three works at the Salon des Réalités Nouvelles in 1947, declaring in a manifesto: "Freedom is emptiness. "The same year he was promoted to public relation director for the American shipping company United States Lines in Paris.
Georges Mathieu, The convention rebel
As early as 1950, Georges Mathieu produced his first tachist paintings and began to name them after events inspired by French history. Tachisme applies to a canvas in which the central motif is produced by tossing or lobbing paint. It is the art of putting paint without a precise objective and letting it evolve as it happens. Georges Mathieu did not use tools. Freeing himself from any technique, he painted directly with colored tubes. He also created monumental sculptures. An example of it is still visible in the Neuilly sports complex.
In 1985, he took a final step to free himself from the central form, the last vestige of the classical art rule. From that point on, he covered the entire canvas of random patterns.
Georges Mathieu. His success
From 1962 on, convinced of the need to create a better harmony between man and his environment, he created new forms of furniture, drew up plans for a factory in Fontenay-le-Comte, and designed the new 10 franc coin.
As early as 1964, Georges Mathieu began a crusade in favor of an education that emphasized feeling. Described by Malraux as a "Western calligrapher", he was exposed to Japanese tradition during a visit to Japan in 1957 and had a triumphant reception there.
He then traveled to Europe, the United States, Brazil, Argentina, Lebanon, Israel, and Canada.
His work can be admired in more than 79 museums and public collections. Since 2005, Georges Mathieu has been part of the Estades Gallery permanent collection, and his work is exhibited on the four sites of the Estades Gallery, in Paris, Lyon, Toulon, and Baden-Baden.
Georges Mathieu. Price of the artist's work
Georges Mathieu. The value of his work
The value of an artist or his work is a subject that fascinates potential art buyers, inquisitive individuals, and art lovers. Why do some contemporary artists such as Georges Mathieu sell some work for a few hundred euros while others can be valued at several thousand euros?
When buying and selling art, it is sometimes challenging for an inexperienced person to understand the price differences.
Experts review aesthetic or economic criteria, number of artists' exhibitions.
The price of an artwork by Georges Mathieu is not secured by aesthetic criteria alone.
Other criteria apply. For instance, the number of exhibits, prestige, the notoriety of the places where the artist exhibited, number, and name of his collectors.
The value of an artist like Georges Mathieu is built over time. A little like a wine that ages well and takes on character.
What is the gallery owner's role in this? He contributes to the evolution of the artist's value, notably by believing in him, talking about his work, by sharing his knowledge, buying, and reselling the work that will become part of Art History.
Georges Mathieu. Estimate
Setting the price of a work of art based on today's value can be a real problem.
We do not set a price on an oil on canvas by Georges Mathieu as we would estimate the price of a loaf of bread or an electric bicycle.
Art has no direct practical feature. How can we evaluate an art object, its capacity to reveal a talent, an emotion, an aura? Therefore, some will estimate that the value of a work of art is relative and subjective.
However, when estimating the work of a contemporary artist like Georges Mathieu, some elements are real:
Cost of material
Technique
The market in which the artist operates
Aesthetics
The artist's career path
Format
Time spent
The complexity of the subject
For example, an oil on canvas by Georges Mathieu sells today between €50,000 and €200,000.
Georges Mathieu, Buy or sell a artwork by Georges Mathieu
How to buy or sell artwork by Georges Mathieu?
Private sales between individuals allow for a muted and confidential transaction with gallery owners and real art experts.
Auction sales are appreciated because you can get artworks at a competitive price. They can also be an opportunity to buy lots and series. However, this process requires a serious commitment on your part.
Buying or selling through a gallery or a professional art expert ensures these specialists' expertise and tailor-made advice will help you complete this exceptional purchase.
The Estades Gallery offers its customers passionate about art the opportunity to acquire significant works by Georges Mathieu, print, drawing, lithograph, oil on canvas, gouache, watercolor, pastel, and sculpture.
But beyond the sale or purchase of art, the Estades Gallery guarantees an exceptional interaction and real support for your art investment
Georges Mathieu. Authentication
Do you own an original work by Georges Mathieu, signed by the artist? Then, you have reached the first step toward its authentication.
The signature of a work of art is indeed a key element in the authentication process, but beware; it is not a complete guarantee of its authenticity. Why? If the artists' work can be forged, so his signature.
Many artists, like Georges Mathieu, have their signature forged. A certificate of authenticity is required to sell the work on the art market and get the best price. An expert specializing in the artists' work or a gallery owner needs to sign the certificate of authenticity.
See some examples of works by Georges MATHIEU available for sale
See the work of Grand Masters exhibited at the Estades Gallery