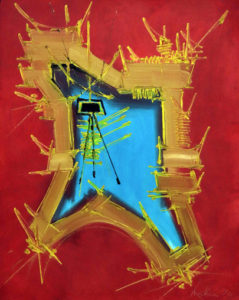 WHAT MICHEL ESTADES SAYS:
Georges Mathieu was a militant artist, convinced of the importance of education in society, who asserted that artists should not live in ivory towers. He was the founder of Lyrical Abstraction: a new aesthetic movement devoid of constraints and unencumbered by past or present artistic conventions.
Biography:
Education
Georges Mathieu was born in Boulogne-sur-Mer (Pas-de-Calais). He studied Literature, Law, and Philosophy at the University of Lille, and graduated with a degree in English in 1941.
He created his first oil paintings in 1942. Before starting his artistic career, he worked as an English teacher for a few years at the Douai high school and as a French teacher at the American University of Biarritz in 1945. He was among the first artists in France to react vigorously against geometric abstraction. In 1947, he organized a series of protests in favor of art free from all classical constraints, He called it "Lyric Abstraction", and promoted it actively.
He exhibited three works at the Salon des Réalités Nouvelles in 1947, declaring in a manifesto: "Freedom is emptiness. "The same year he was promoted to public relation director for the American shipping company United States Lines in Paris.
Georges Mathieu, The convention rebel
As early as 1950, Georges Mathieu produced his first tachist paintings and began to name them after events inspired by French history. Tachisme applies to a canvas in which the central motif is produced by tossing or lobbing paint. It is the art of putting paint without a precise objective and letting it evolve as it happens. Georges Mathieu did not use tools. Freeing himself from any technique, he painted directly with colored tubes. He also created monumental sculptures. An example of it is still visible in the Neuilly sports complex.
In 1985, he took a final step to free himself from the central form, the last vestige of the classical art rule. From that point on, he covered the entire canvas of random patterns.
Georges Mathieu. His success
From 1962 on, convinced of the need to create a better harmony between man and his environment, he created new forms of furniture, drew up plans for a factory in Fontenay-le-Comte, and designed the new 10 franc coin.
As early as 1964, Georges Mathieu began a crusade in favor of an education that emphasized feeling. Described by Malraux as a "Western calligrapher", he was exposed to Japanese tradition during a visit to Japan in 1957 and had a triumphant reception there.
He then traveled to Europe, the United States, Brazil, Argentina, Lebanon, Israel, and Canada.
His work can be admired in more than 79 museums and public collections. Since 2005, Georges Mathieu has been part of the Estades Gallery permanent collection, and his work is exhibited on the four sites of the Estades Gallery, in Paris, Lyon, Toulon, and Baden-Baden.
See some examples of works by Georges MATHIEU available for sale
See the work of Grand Masters exhibited at the Estades Gallery