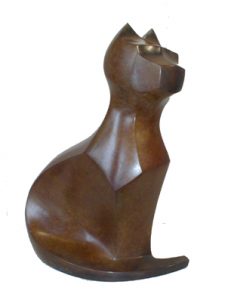 WHAT MICHEL ESTADES SAYS:
No nature and animal lover could remain insensitive to Gérard Boudon's fantasy animal world. A brilliant and self-taught artist, he was, as his work reflects, a profoundly simple and elegant man. Gérard Boudon died on May 6th, 2011, aged 65 years.
Biography:
Gérard Boudon. The animal lover
Born in Haute Auvergne, Gérard Boudon enjoyed drawing animals at a tender age. The animal world fascinated him as much as the art world. In 1970, his first passion led him to become a veterinarian.
In 1990, in collaboration with Bertrand Fauconnet, veterinarian and animal sculptor also represented by the Estades Gallery, he helped build a clinic in Dole,
In 1982, he devoted himself to his second passion and dedicated himself entirely to drawing and sculpture. With no formal training, he was guided by his love of animals. "For a long time, I hesitated between veterinary and Fine Arts school," he confided. Gérard Boudon created many animal sculptures, following in the footsteps of François Pompon, a famous sculptor of the late 19th and early 20th century.
His deep and vibrant work conquered the public and left his imprint on contemporary European art.
Gérard Boudon. Technique
Starting from daily observations or collected during numerous trips to Africa, he immersed himself in his subject. He would draw in a notebook, sometimes forgetting, sometimes taking it up again, before starting his work.
He used to complete his first step in clay and then send the model to the foundry.
Gérard used wood, mostly linden known for its esthetic qualities.The foundry would make bronzes and highlight them with luminous patinas.
Gérard Boudon, who mastered his art perfectly, knew as no one else how to capture animals in their natural grace, and purify their forms as best as he could. Seals, rhinoceros, bears, hyenas, wild boars, gorillas, or kingfishers, his creations were frozen in the final stillness of metal but still seemed to be alive. These works and their subtle patinas, exceptionally designed and well built, owe much to geometry.
Gérard Boudon. His work
Clean lines, movement, elegance, his stylized animals are the products of a fragile balance between naturalism and abstraction.
An art in which strength and softness occur at the same time.
At times, the surface of the sculpture is so smooth that it reflects the light like a mirror.
One cannot have enough of the elegance of Gérard Boudon's animals. Despite their simplicity, they are nonetheless masterfully revealed and endearing. His art expresses with great economy of means, the personality and the character of the animal itself. His work is appreciated and sought after by collectors and connoisseurs.
Gerad Bouton has been part of the Estades Gallery's permanent collection since the year 2000. It is on display at the four locations of the Estades Gallery, in Paris, Lyon, Toulon, and Baden-Baden.
Gérard Boudon. Its value
It is sometimes difficult to understand how an artist like Gérard Boudon is valued regardless of his technique: painting, sculpture, drawing, lithograph, watercolor.
The price of artwork can sometimes reach millions of euros. It all depends on the artists and the medium. Such a price difference can be confusing to a collector or an art buyer.
How can you explain the value of an artwork by Gérard Boudon?
It mostly depends on the following: the artist's notoriety in the media and artistic circles, his contribution to art history, his originality, the recognition of his work by art experts, gallery owners, cultural institutions, the sale of his works in major auction houses, the uniqueness of the work, its creation date, the material, and technique.
A bronze sculpture by Gérard Boudon sells between €1,500 and €38,000.
Gérard Boudon. Authentication
Do you own a work signed by Gérard Boudon? The signature is the first step in its authentication. Unfortunately, "signed" and "authenticated" do not necessarily add up because a signature can be reproduced.
Many artists, like Gérard Boudon, have their signature forged. A certificate of authenticity is required to sell the work on the art market and get the best price. An expert specializing in the artists' work or a gallery owner needs to sign the certificate of authenticity.
Gérard Boudon. Estimate
To determine the price of a work Gérard Boudon or any other artist on the art market, art experts or auctioneers use a database and study the latest selling prices for similar works.
They examine a set of precise criteria. Work dimension, theme, medium, materials being used, the uniqueness of the work, and its state are significant factors determining the artwork price.
A bronze sculpture by Gérard Boudon, sells between €1500 and €38 000.
Gérard Boudon. Buy or sell a work by artist Gérard Boudon
You want to buy or sell a work by Gérard Boudon ?
Here are some options: you can acquire a work at an interesting price in an auction. These sales also allow you to buy in lots, and series but will require serious commitment and availability. Private sales between individuals allow for more flexibility and confidentiality. Gallery owners and professional experts can help you with tailor-made advice and guide you in this exceptional purchase.
The Estades Gallery brings you the opportunity to acquire major works by Gérard Boudon, whether prints, drawings, signed lithographs, sculpture, or oils on canvas. Beyond buying and selling art, the gallery offers to advise and guide you in your art investment, whether you are an enthusiastic amateur or a dedicated collector.
See some examples of works by Gérard BOUDON available for sale
See the work of Sculptors and Monumental Art exhibited at the Estades Gallery