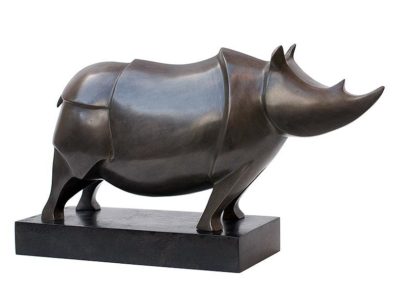 WHAT MICHEL ESTADES SAYS:
Guy Geymann loved pure lines. His organic bronze, tin, stone, wood and polymarble sculptures – mainly depicting animals – are characterized by their compact, rounded shapes. Guy Geymann died on August 7th, 2017, age 66 years.
BIOGRAPHY:
Born in Belfort, French sculptor, Guy Geymann, graduated with a master's degree in Plastic Arts at the Sorbonne in 1975. Conjointly, and until 1979, he attended several sculpture workshops at the École Nationale Supérieure des Beaux-Arts, notably those of Etienne Martin, César, and Louis Chauvenet. The latter lent him space in his studio at the School of Fine Arts. Acclaimed artist, he was also teaching art with a genuine passion
to share his knowledge with younger generations.
Guy Geymann started with pewter and cast iron before doing bronze and poly-marble. His first works are figurative pieces filled with details. He later moved towards a more refined style. The essential part of his work is articulated around human and animal representation.
Proficient in extended forms and smooth surfaces, he belongs to the line of "organic" or "vitalist" sculptors.
Animal sculptor François Pompon was at the origin of this artistic movement that started in the 1910s. Artists such as Brancusi, Henry Moore or Barbara Hepworth, supported this style.
They produced a form of art inspired by nature without reproducing it. Little by little, they walked away from symbolism or expressionism and created new objects on the verge of abstraction.
Guy Geymann's work sometimes borders abstraction. He is a supporter of the formal aesthetics of the smooth surface. The subtle curves and edges of his sculptures communicate, in turn, a hieratic or sensual aspect.
His works, highly appreciated for the purity of the line, can be found in public and private collections, both local and international. Guy Geymann received numerous distinctions, such as the Edouard-Marcel Sandoz award at the 2010 Salon des Artistes Animaliers in Bry-sur-Marne, and the gold medal of the Société des Artistes Français in 2011. In 2009, the French Defence department appointed him Army Painter-sculpture specialist. Since 2013, he has been part of the Estades Gallery's permanent collection. His work is exhibited at the four locations of the Gallery, in Paris, Lyon, Toulon, and Baden-Baden.
See some examples of works by Guy GEYMANN available for sale
See the work of Sculptors and Monumental Art exhibited at the Estades Gallery