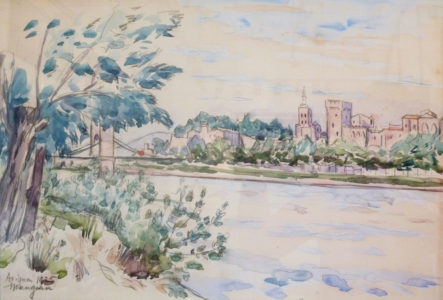 WHAT MICHEL ESTADES SAYS:
A passionate art dealer with 30 years' expertise, Michel Estades loves sharing his knowledge and enthusiasm for his favourite artists. His 4 galleries permanently exhibit many 20th and 21st-century figurative artists, including the world's greatest masters, masters from the Provencal and Lyon schools, modern and contemporary masters and a constant flow of talented new painters and sculptors.
BIOGRAPHY:
French painter Henri Charles Manguin was born in Paris on March 23, 1874, and died in Saint-Tropez, September 25, 1949.
He was one of the leading creators of French Fauvism in 1905.
In 1889, Henri dropped out of Lycée Condorcet in Paris to devote himself to painting. In 1894 he frequented the studio of Gustave Moreau at the Paris School of Fine Arts. There he befriended Albert Marquet, Henri Matisse, Jean Puy, and Georges Rouault.
In 1899, he married Jeanne Carette. With a few exceptions, Jeanne was his only model and gave him three children. He exhibited at the B.Weill Gallery and the Salon de la Société Nationale des Beaux-Arts. In 1902, he exhibited for the first time at the Salon des indépendants. In 1904, Manguin discovered Saint-Tropez and became friends with Paul Signac. He exhibited at the Salon d'automne, in the United States, and at the Venice Biennale.
Ambroise Vollard bought 150 paintings from him. During a private exhibition at the Druet Gallery in 1906, he became friends with Henri-Edmond Cross. He traveled to Italy and exhibited in Zurich and Bucharest.
In 1909, he settled in Neuilly and was part of a group exhibition in Russia. He stayed in Honfleur with Félix Vallotton and met Swiss collectors, the Hahnlosers. In the summer, he settled in Sanary, where he often saw Henri Lebasque and exhibited in Berlin.
He lived in Lausanne during the First World War. In 1924, he participated in the project of the future Annonciade Museum in Saint-Tropez. He exhibited at the Bing Gallery in 1927.
In 1938, the Eugène Druet gallery closed. His son bought back the unsold items. Manguin destroyed eight of them and exhibited the rest worldwide. He rented a workshop in Avignon in 1942. Henri Manguin died in his house in l'Oustalet on September 25, 1949. The Salon de la Société Nationale des Beaux-Arts organized a posthumous retrospective of his works in 1950.
Source Wikipedia
See some examples of works by Henri Charles MANGUIN available for sale
See the work of Grand Masters exhibited at the Estades Gallery