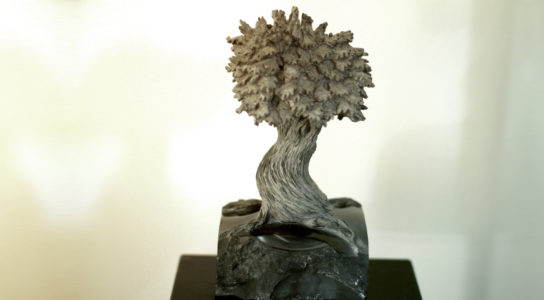 WHAT MICHEL ESTADES SAYS:
Herrel's patiently-sculpted marble sculptures are endearing, moving and sometimes-bizarre, reflecting his burning desire to tell the story of life and preserve the beauty of the world. Instilled with timeless beauty, his works call for the salvation of nature from mankind's madness.
Biography:
Herrel: The artist's background
Herrel. His life and his art.
A rather exuberant child, Herrel concentrated relentlessly on drawing. In primary school, he collected and sculpted his chalk sticks. They were his first work.
Later, he studied to become a graphic designer. He was the artistic director of a large media group. For 15 years, he worked on special effects for several TV series.
Tired of using his creative skill in an industry worshipping the ephemeral, in 2011, he decided to devote his time to his passion for sculpture. He wood chiseled his first work entitled "Later", an astonishing self-portrait done 30 years after his chalk stick period. In 2014, he quitted his professional activity to consecrate himself exclusively to his art and prepare his first exhibition, which took place the following year.
Herrel's works
Originally from Normandy, Herrel lives and makes his creations in the Alpilles. Fearless, he tackled marble immediately.
His work is done exclusively in Carrara or Black Belgium marble. He works this noble material with both depth and subtlety. Self-taught, he masters his art, carving directly without sketches or models, denying himself the right to make mistakes. His temperament leads him to study the relationship between Man and Nature. Herrel's work is rooted in the ancient link that unites man to his environment and reminds him of his roots.
While his observation is uncompromising, it is mixed with optimism, and a call to bring about awareness and positive change.
Herrel. His inspirations
His sculptures are subtle and delicate. A sense of Ethics. characterizes his approach.
Being an artist is for him a requirement and not an attitude. For him, creating is a way of being and looking at a world that is his own, at the same time, benevolent and worried.
Testimony to the contradictions of our time, uncontrolled productivism, and the thirst for unrestrained growth leads us to lose our sense of otherness.Herrel lets his emotions guide him. His stone sculptures turn into fragile bands in his hands. His direct-cut sculptures are going against the tide in an age led by the internet and digital artists. It is a response to the technological acceleration of our time, eternity facing the cult of the ephemeral.
Herrel has chosen to record his work in time, wishing to leave suggestions and statements for the "archaeologists of the future. His talent has been blooming, giving birth to sculptures that don't leave the art lover indifferent.
His work has been part of the Estades Gallery's permanent collection since 2017. It is on display in the four locations of the Estades Gallery, in Paris, Lyon, Toulon, and Baden-Baden.
Herrel, How much does his artworks cost?…
Buy or sell an artwork by Herrel
How to sell or buy a work by Herrel?
Michel Estades is an expert on the works of Herrel, a reference art expert for this artist. Buying a sculpture by Herrel (bronze and marble) at Galerie Estades guarantees the authenticity and the quality of the work.
Herrel. Value of his art
How is the price of an artwork by Herrel being established? The experts who determine it use several criteria
Sale of his work.
Creation date
Material and medium
Artist recognition and fame.
Herrel. Estimate
How to estimate an artwork by Herrel?
The rating of a work of art more precisely depends on other parameters that will be taken into account by experts and professionals in the field. For example, to determine the value of a Herrel marble sculpture, art experts, gallery owners or auctioneers will study the latest sale prices for similar works.
To determine the price of an artwork , art experts or auctioneers use a database and study the latest selling prices for similar works. They examine a set of precise criteria. Work dimension, theme, medium, material, the uniqueness of the work, and its condition are significant factors determining the artwork's price.
A marble sculpture by Herrel sells between €4,500 and €18,000.
Herrel. Authentication
To authenticate your work, you can send us a request to estades1@gmail.com.
See some examples of works by HERREL available for sale
See the work of Sculptors and Monumental Art exhibited at the Estades Gallery