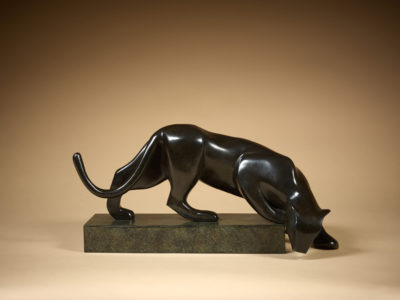 WHAT MICHEL ESTADES SAYS:
With their rounded edges and smooth surfaces, Isabelle Brizzi's animal sculptures radiate grace and happiness. Her bronzes, embellished with daring and colourful patinas, resemble polished stone. Their pure lines denote Art Deco influences.
Biography:
Isabelle Brizzi. Her mentors
Isabelle Brizzi is the great-niece of Casimir and Isidore Scudéri, two brothers animal sculptors and founders from Italy.
They set up a small foundry in Clamart in the Hauts-de-Seine region of France in the 1930s. They quickly gained the trust of Alberto Giacometti, Salvador Dali, and Joan Miro.
When she was a child, Isabelle used to visit her great uncles' workshop. They introduced her to clay modeling. Under their supervision, she made her first animal sculptures.
After studying art at La Grande Chaumière, Isabelle started a career in animation. She worked in her two brothers' studio, later bought by Disney with whom she collaborated for a while.
She stopped working after the birth of her daughter. She returned to her initial passion – sculpture – and the animal world as a primary inspiration.
Isabelle Brizzi and Jack Thiney
Isabelle Brizzi took sculpture classes to improve her skill. Conjointly, she attended Jack Thiney's lectures at the Museum of Natural History in Paris, where he was the chief taxidermist for 40 years, contributing to the conception of the Grande Galerie de l'Evolution.
Jack Thiney taught her animal sculpture, anatomy, and the technique he used to prepare animals.
Since 1998, she has been living exclusively off her work. Recognized by her peers, she received numerous awards, including the Gold Medal at the 2007 Salon des Artistes de Bry-sur-Marne, the Gold Medal for Sculpture at the 2004 Salon des Arts de Joinville, and sculpture First Prize from the City of Saint Maur in 2003. She exhibited internationally in London, Miami, and Brussels.
Since 2012, her work is featured in the Estades Gallery permanent collection and featured in the Gallery four locations in Paris, Lyon, Toulon, and Baden-Baden (Germany).
Isabelle Brizzi: her passion for animals
The training she underwent allowed her to study animal anatomy with precision.
However, more than the accuracy, it is the essence of the figure that she tries to grasp. She executes her work in two stages. First, a meticulous phase of anatomical research and observation of movement, visiting zoos, viewing animal documentaries, or taking photographs. Then, she lets the animal's character inspire her. Her bronze sculptures have no eyes, except for the monkeys, whose eyes are essential. The result is a surprising world between abstraction, humor, and tenderness. Even if she acknowledges classical masters like François Pompon and Rembrandt Buggatti, Isabelle Brizzi appreciates contemporary artists' originality in animal art.
Isabelle Brizzi. Price of her work
Isabelle Brizzi's artwork value
Isabelle Brizzi has made a name for herself.
Over time the value of a name evolves regardless of the medium he or she uses, painting, sculpture, drawing, lithograph, or watercolor.
The price of an artwork is subject to variations and can sometimes reach millions of euros. For a collector and art buyer, such a difference in price may seem puzzling.
How do you explain the price range of an artist like Isabelle Brizzi? It mainly depends on the following elements: the artist's notoriety, his or her recognition in the media and artistic circles by art experts, gallery owners, cultural institutions, the sale of her works in the major auction houses, the uniqueness of the work, its creation date, the material, and technique.
A bronze sculpture by Isabelle Brizzi sells between €1,500 and €20,000.
Isabelle Brizzi. Estimate
To determine the price of a bronze sculpture by Isabelle Brizzi or any other artist on the art market, art experts or auctioneers use a database and study the latest selling prices for similar works. They examine a set of precise criteria. Work dimension, theme, medium, material, the uniqueness of the work,its condition, and whether it is signed or not are significant factors determining the price of an artwork..
Buy or sell a work by Isabelle Brizzi
You wish to buy or sell a work by Isabelle Brizzi? Here are some options:
Auction sales are appreciated because they bring you the opportunity to get artworks at a competitive price. They can also be an opportunity to buy lots and series.
However, this process requires a serious commitment on your part.
A private sale between individuals allows for a more personal and confidential transaction with a gallery owner or a professional art expert. They will guide you through the process. Their expertise and tailor-made advice will help you complete this exceptional purchase.
The Estades Gallery brings you the opportunity to acquire major works by Isabelle Brizzi, whether print, drawing, lithography, bronze sculpture, oil on canvas. Beyond buying and selling art, the Estades gallery will offer you expert advice and guide you in your art investment, whether you are an enthusiastic amateur or a dedicated collector.
Isabelle Brizzi. Authentication
Do you own an artwork signed by Isabelle Brizzi? The signature is the first step in its authentication. Unfortunately, "signed" and "authenticated" do not necessarily add up because a signature can be reproduced.
Many artists, like Isabelle Brizzi, have their signature forged. A certificate of authenticity is required to sell the work on the art market and get the best price. An expert specializing in the artists' work or a gallery owner needs to sign the certificate of authenticity.
See some examples of works by Isabelle BRIZZI available for sale
See the work of Sculptors and Monumental Art exhibited at the Estades Gallery