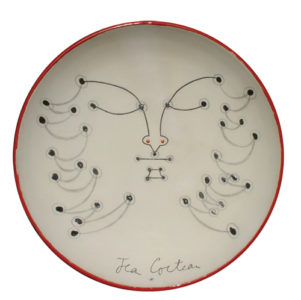 WHAT MICHEL ESTADES SAYS:
A painter, sculptor, ceramist, film director and poet, Jean Cocteau's life is very hard to resume in a few lines. After rising to the pinnacle of his career in the interwar period – a time of intense creativity for the artist -, he never ceased to embrace new artistic adventures.
BIOGRAPHY:
Jean Cocteau was born in Maisons-Laffitte into an eminent Parisian bourgeois family. He was just 9 years old when his father committed suicide. His mother, whom he adored, raised him alone. He published his first poems in 1909. Very soon, this dandy aesthete became one of Parisian high society's darlings, often seen rubbing shoulders with the Countess of Noailles and Marcel Proust. Stravinski's Rite of Spring for Diaghilev in 1913 was a genuine revelation that went on to influence his entire, multi-faceted work. Later on, while he was working as an ambulance man during WWI, he became friends with Apollinaire. Jean Cocteau immersed himself in the avant-garde movement in the interwar period and collaborated with musicians such as Erik Satie ("Parade" – 1917) and Darius Milhaud, as well as famous painters.
A born genius and man with many strings to his bow, Jean Cocteau never ceased to revisit the world around him with his eternal teenage gaze. His writing reflected his curiosity too and he tried his hand at futuristic, Dadaist and Cubist-inspired poetic works including "Le Cap de Bonne Espérance" (1919), "Le Potomac" (1919), "Thomas l'Imposteur" (1923) and "Les Enfants Terribles" (1929). He was a major playwright and author of "Les Mariés de la Tour Eiffel" (1924), "La Voix Humaine" (1930) and "La Machine Infernale" (1934). He also directed or wrote several acclaimed films: "Le Sang d'Un Poète" (1930), "L'Éternel Retour" (1943), "La Belle et la Bête" (1945) and "Orphée" (1950).
A Commander of the Légion d'Honneur, academician, poet and choreographer, Cocteau's many and varied talents of course included drawing and painting. In addition to his artwork, we owe him the decoration of the chapels of Villefranche-sur-Mer and Milly-la-Forêt. Ceramics were also part of the brilliant repertoire of this talented jack of all trades. His main sources of inspiration were mythology, dreams and eroticism. When questioned on his interest in pottery and ceramics he replied: "Pottery saved my life. It avoids me using ink, which has become too dangerous as everything we write is systemically deformed by those who read it." His work has been on permanent show at the four Galerie Estades galleries in Paris, Lyon, Toulon and Baden-Baden (Germany) since 1990.
See some examples of works by Jean COCTEAU available for sale
See the work of Grand Masters exhibited at the Estades Gallery