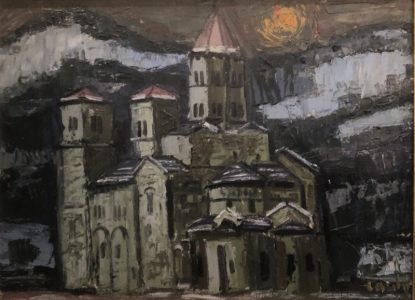 WHAT MICHEL ESTADES SAYS:
A passionate art dealer with 30 years' expertise, Michel Estades loves sharing his knowledge and enthusiasm for his favourite artists. His 4 galleries permanently exhibit many 20th and 21st-century figurative artists, including the world's greatest masters, masters from the Provencal and Lyon schools, modern and contemporary masters and a constant flow of talented new painters and sculptors.
BIOGRAPHY:
Jean Couty was born in 1907. His family, masons from the Creuse, left the Limousin region as Compagnons de France. Early on, he was attracted to drawing and poetry.
In 1925, after graduating from high school, he enrolled in the School of Fine Arts architecture program in Lyon. Painter Tony Garnier hired him as an intern. He later enrolled in the architecture graduate program at the Paris School of Fine Arts.
Although he got a DPLG diploma in 1933, he pursued his vocation as a painter.
During nearly 60 years, his long career was distinguished by works inspired by various themes, landscapes, portraits, Romanesque churches, social compositions, or construction sites.
He achieved lyrical depth by a line, a touch, a color, a composition outside of any style, or theory.
He affirmed, "To complete his work, an artist must remain free and protect his mind from compromise.
He had numerous exhibitions in France and abroad. Many salons welcomed him. He is featured in many private collections and exhibited in major French museums such as the Museum of Modern Art in Paris and the St Pierre Museum in Lyon.
See some examples of works by Jean COUTY available for sale
See the work of Masters of Lyon exhibited at the Estades Gallery