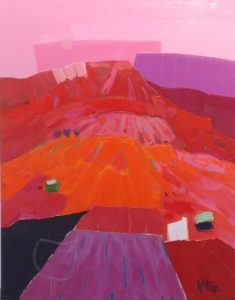 WHAT MICHEL ESTADES SAYS:
Jean-Pierre Maltèse is an insatiable and inquisitive artist. The originality of his depictions of Mediterranean landscapes is striking. The uniquely-personal shape of his boats and the square sun that lights up his canvasses form genuine artistic trademarks.
Biography:
Jean-Pierre Maltèse and Provence
Jean-Pierre Maltèse was born in Bizerte, Tunisia. He has been drawing and painting since his teens. His early childhood was spent in North Africa. Its perfumes and colors he never forgot influenced him and his art.
He studied at the Beaux-Arts of Toulon and La Seyne, befriended painters of the Toulon school, and benefited from the advice of Jacques Bartoli. A significant figure of the contemporary Provençal school, Jean-Pierre Maltèse, explores three main styles: seascapes, landscapes, and still lifes. His warm and bright colors underline a minimalist design between abstraction and figuration.
Jean-Pierre Maltèse is one of the greatest colorists of his generation. His canvases are a strange and luminous vision of Provence. He does not describe, he suggests, distills emotion, and provokes the imagination. For him, a painting reads like a book, where each of us defines his or her level of reading.
Jean-Pierre Maltèse. A versatile artist
Exhibited regularly in France and featured in numerous collections, Jean-Pierre Maltèse is part of the Estades Gallery's permanent collection. His work has been exhibited in the Gallery four locations in Paris, Lyon, Toulon, and Baden-Baden.
In addition to painting, Maltèse masters the art of ceramics and sculpture.
He discovered engraving in the 2000s and later taught the technique. When studying more closely his rhythmic compositions, one discovers a very personal skill both in painting and engraving. Scraping the raw material, he plays with texture and enriches it with printed fabric.
Jean-Pierre Maltèse inspiration
Jean-Pierre Maltèse's primary influence was the Impressionists Manet, Monet, Pissarro, and his favorite when he was younger, and, closer to home, Nicolas de Staël.
Other artists, such as Mark Rothko, who works through vibrations or Garouste's disturbing imagination, intrigue him.
Jean-Pierre Maltèse's works exude modernity and a harmony new to Provençal painting. He removes paint to reveal figures, objects, trees. It is his signature. Unlike abstract art, with no well-defined objective, his creation is based on a theme. Nature is a permanent source of wonder for him.
Moreover, if no character appears in his compositions, we can nevertheless imagine them underneath. For him, "A painting reads like a book. To each his degree of reading."
A painting tells a story no matter how abstract. It is the story of its relationship with other objects, with the viewer, and its own distinct story between the elements that compose it: form, color, material, border. His paintings offer an unnatural image of the landscapes of the South. The flat areas of color recreate the magic of scenes heated by the Southern light.
Jean-Pierre Maltese. Price of Jean-Pierre Maltese's work
Jean-Pierre Maltese, Authentication
Do you own an artwork signed by Jean-Pierre Maltese? The signature is the first step in its authentication. Unfortunately, "signed" and "authenticated" do not necessarily add up because a signature can be reproduced.
Many artists, like Jean-Pierre Maltese, have their signature forged. A certificate of authenticity is required to sell the work on the art market and get the best price. An expert specializing in the artists' work or a gallery owner needs to sign the certificate of authenticity.
Jean-Pierre Maltese. Estimate
The estimation of an artwork is determined by experts and professionals. For example, to determine the value of an oil on canvas by Jean-Pierre Maltese, art experts, gallery owners or auctioneers will study the latest selling prices of similar works.
To estimate a work by an artist like Jean-Pierre Maltese, what other criteria can be used?
Its rarity.
Its condition.
His signature.
The dimensions of the work.
Its theme.
Its technique.
An oil on canvas Jean-Pierre Maltese sells between €2,500 and €10,000.
Jean-Pierre Maltese. Value of Jean-Pierre Maltese's work
Understanding the value of a modern or contemporary artist like Jean-Pierre Maltese is not easy. Multiple variables need to be taken into account. Painting, bronze sculpture, gouache, watercolor, oil on canvas, artistic techniques are diverse, and the talents expressing them are equally many.
Modest works can sell for a few hundred euros, while more significant works can reach thousands of euros. It applies to Jean-Pierre Maltese.
Such price differences always surprise art lovers. Moreover, whether you are an experienced art buyer, a collector, an investor, or merely an enthusiast, wondering what makes these prices is entirely legitimate.
So, how can an artwork by Jean-Pierre Maltese be estimated? The experts who will establish this value will take into account several variables:
Sale
Creation date
Material and technique
Artistic reputation and fame
Peer and public recognition of his work.
Jean-Pierre Maltese. Buy or sell a work by Jean-Pierre Maltese.
How to sell or buy a work by Jean-Pierre Maltese?
A private sale between individuals allows for a more personal and confidential transaction with a gallery owner or a professional art expert. They will guide you through the process. Their expertise and tailor-made advice will help you complete this exceptional purchase.
Auction sales are appreciated because they bring you the opportunity to get artworks at a competitive price. They can also be an opportunity to buy lots and series. However, this process requires a serious commitment on your part.
The Estades Gallery brings you the opportunity to acquire major works by artists like Jean-Pierre Maltese, whether print, drawing, original signed lithograph, oil on canvas, gouache, watercolour, pastel, sculpture. Beyond buying and selling art, the Estades gallery will offer you expert advice and guide you in your art investment, whether you are an enthusiastic amateur or a dedicated collector.
See some examples of works by Jean-Pierre MALTESE available for sale
See the work of Masters of Provence exhibited at the Estades Gallery