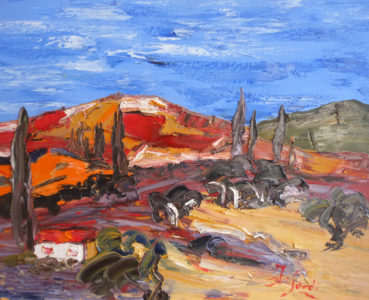 WHAT MICHEL ESTADES SAYS:
Jean Sardi depicts his inner Provence, that of entirely fictional landscapes or places known only to him… He applies colour randomly to the canvas and his subjects are born out of the ensuing abstraction. His works are literally dazzling, despite the fact that he never paints the sun.
Biography:
Jean Sardi. His background
Jean Sardi was born in Toulon. He spent his youth, studied, and got married there.
He followed a career in education and was posted North of the country. Missing his native province, he returned ten years later, and painting became an obvious choice.
He began to draw and paint with water or oil on various supports, even on the tiles in his house, but more generally on canvas boards.
His meeting in 1980 with the Toulon painter Jacques Bartoli, whose studio he frequented, was decisive. Jean Sardi was also influenced by Eugène Baboulène, another great master of the Ecole Toulonnaise. He was awarded the Grand Prix International de Saint Raphaël in 1985, the Grand Prix de la Ville de Salon de Provence in 1986, and the Premier Prix de la Ville de Lyon in 1989.
He set up his studio in Revest and captured the light that illuminates the green or chalky slopes of Mont Caume.
Although he has been drawing since childhood, painting has been his full-time job since the end of the 1990s.
Jean Sardi. The Provençal painter
Jean Sardi is very attached to his native region. He creates typical landscapes that define Provence and Corsica, even if he sometimes seeks his inspiration elsewhere like Paris, New York, or Venice.
Classified among the Provençal expressionists, he is considered by many as one of the contemporary Provençal School leaders.
Jean Sardi has become an influential artist recognized by the art market. Sought after by many collectors in France and abroad, he had numerous exhibitions and public sales.
Since 1990, he has been part of the permanent collection of the Estades Gallery. His work is exhibited in the Gallery four locations in Paris, Lyon, Toulon, and Baden-Baden.
Jean Sardi. His work
His brushstroke, refined with a knife, is generous and full of color. Nature is there, joyous, lively, luminous, and singing. He creates hills or seaside landscapes always revisited in his studio, never painted on site. His specialty and preference go toward marines. The sky is exceptionally well cared for, in sometimes intense blue and ochre on summer evenings.
His canvases are a shimmering force of large flat areas, fireworks spots, and a blend of Mediterranean luminosity.
An inspired colorist, he renders perfectly what is intangible – atmosphere, warmth, space – succeeding in the feat of transforming the reality of a place into sensations and emotions.
Jean Sardi. Cost of an artwork by Jean Sardi
Jean Sardi. Buy or sell Jean Sardi artwork
Would you like to buy or sell a work Jean Sardi ? you are in the right place.
Michel Estades is the expert on the works of Jean Sardi, a reference art expert for this artist. Buying a painting by Jean Sardi (oil on canvas) at Galerie Estades guarantees the authenticity and the quality of the work.
Jean Sardi. Authentication
To authenticate your work, you can send us a request to estades1@gmail.com.
Jean Sardi. Price of Jean Sardi artwork
An oil on canvas by Jean Sardi sells between €2,500 and €10,000.
See some examples of works by Jean SARDI available for sale
See the work of Masters of Provence exhibited at the Estades Gallery