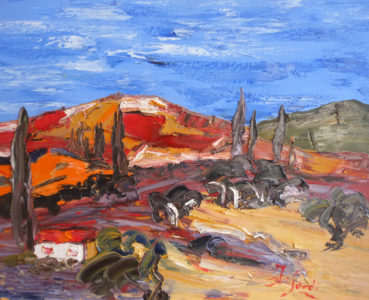 WHAT MICHEL ESTADES SAYS:
Jean Sardi depicts his inner Provence, that of entirely fictional landscapes or places known only to him… He applies colour randomly to the canvas and his subjects are born out of the ensuing abstraction. His works are literally dazzling, despite the fact that he never paints the sun.
Biography:
Jean Sardi. His background
Jean Sardi was born in Toulon. He spent his youth, studied, and got married there.
He followed a career in education and was posted North of the country. Missing his native province, he returned ten years later, and painting became an obvious choice.
He began to draw and paint with water or oil on various supports, even on the tiles in his house, but more generally on canvas boards.
His meeting in 1980 with the Toulon painter Jacques Bartoli, whose studio he frequented, was decisive. Jean Sardi was also influenced by Eugène Baboulène, another great master of the Ecole Toulonnaise. He was awarded the Grand Prix International de Saint Raphaël in 1985, the Grand Prix de la Ville de Salon de Provence in 1986, and the Premier Prix de la Ville de Lyon in 1989.
He set up his studio in Revest and captured the light that illuminates the green or chalky slopes of Mont Caume.
Although he has been drawing since childhood, painting has been his full-time job since the end of the 1990s.
Jean Sardi. The Provençal painter
Jean Sardi is very attached to his native region. He creates typical landscapes that define Provence and Corsica, even if he sometimes seeks his inspiration elsewhere like Paris, New York, or Venice.
Classified among the Provençal expressionists, he is considered by many as one of the contemporary Provençal School leaders.
Jean Sardi has become an influential artist recognized by the art market. Sought after by many collectors in France and abroad, he had numerous exhibitions and public sales.
Since 1990, he has been part of the permanent collection of the Estades Gallery. His work is exhibited in the Gallery four locations in Paris, Lyon, Toulon, and Baden-Baden.
Jean Sardi. His work
His brushstroke, refined with a knife, is generous and full of color. Nature is there, joyous, lively, luminous, and singing. He creates hills or seaside landscapes always revisited in his studio, never painted on site. His specialty and preference go toward marines. The sky is exceptionally well cared for, in sometimes intense blue and ochre on summer evenings.
His canvases are a shimmering force of large flat areas, fireworks spots, and a blend of Mediterranean luminosity.
An inspired colorist, he renders perfectly what is intangible – atmosphere, warmth, space – succeeding in the feat of transforming the reality of a place into sensations and emotions.
Jean Sardi. Cost of an artwork by Jean Sardi
Jean Sardi. The value of his work
The value of a work of art is a complex subject for any potential art buyer, inquisitive person, or an art lover. Why do some works by contemporary artists like Jean Sardi sell for a few hundred euros while others can be valued at several thousand euros? It is sometimes difficult to understand for a person not trained in buying and selling art.
Aesthetics, economic criteria, number of artists' exhibitions, many parameters are reviewed by experts. But what makes the value of an artwork by Jean Sardi is not only the aesthetics. Other criteria are used such as the number of exhibitions in which the artist has participated, prestige and notoriety of the places where the artist has been exhibited, number and name of his collectors… The value of an artist like Jean Sardi is built over time, like the hands of a craftsman that are built with his trade. What is the role of the gallery owner in all this? He contributes to the evolution of the artist's value in particular by supporting him or her, talking about his work, sharing the knowledge he has of it, buying his works and by reselling his work as if it will join the history of Art.
Jean Sardi. Buy or sell Jean Sardi artwork
How to sell or buy a work by Jean Sardi?
Private sales between individuals allow for a more personal and confidential transaction. Auction sales are appreciated because they bring the opportunity to get artworks at a competitive price. They can also be an opportunity to buy lots and series.
However, this process requires a serious commitment on your part.
Private sales are conducted by gallery owners and professional art experts.
The Estades Gallery brings to its customers passionate about art the opportunity to acquire major works by contemporary artists such as Jean Sardi, whether print, drawing, original signed lithograph, oil on canvas, gouache, watercolour, pastel, sculpture. Beyond buying and selling art, the Estades gallery will offer you expert advice and guide you in your art investment, whether you are an enthusiastic amateur or a dedicated collector.
Jean Sardi. Authentication
Do you own artwork signed byJean Sardi? The signature is the first step in its authentication. Unfortunately, "signed" and "authenticated" do not necessarily add up because a signature can be reproduced.
Many artists, like Jean Sardi, have their signature forged. A certificate of authenticity is required to sell the work on the art market and get the best price. An expert specializing in the artists' work or a gallery owner needs to sign the certificate of authenticity.
Jean Sardi. Price of Jean Sardi artwork
Lacking any practical viewpoint, how can one evaluate an art object and its potential to identify talent, emotion, and character? Some argue that the value of an artwork is, therefore, relative and subjective. However, there are also certain realities helping estimate the work of a contemporary artist like Jean Sardi. Furthermore, they are quite detailed :
Material cost.
Technique
The market in which the artist operates
Visual quality
The artist's career path
Format
Time spent
The complexity of the subject
An oil on canvas by Jean Sardi sells between €2,500 and €10,000.
See some examples of works by Jean SARDI available for sale
See the work of Masters of Provence exhibited at the Estades Gallery