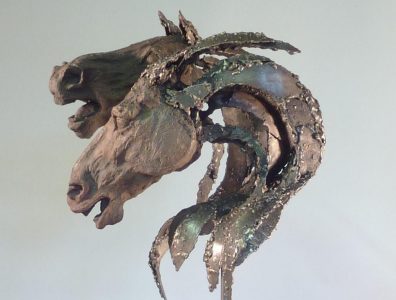 WHAT MICHEL ESTADES SAYS:
Earth and heaviness on one side, steel and lightness on the other: Jenny Jacottet's sculptures always appear to be on the verge of dancing, jumping and flying… Her primary focus is life and the fleeting moments expressed by the body. Her works project us into a world of elegance and poetry. A genuine state of grace.
Biography:
Jenny Jaccottet artistic background
Jenny Jacottet has developed a very personal approach to sculpture. Her first encounter with the Arts was through interior design and theatre decoration.
After a multidisciplinary education at the Ecole Supérieure des Arts et Techniques de Paris, the practice of monumental sculpture in a decoration workshop for a theatre in Tours allows her to master different techniques.
Jenny Jacottet devoted herself entirely to monumental art for two years. In her home town of Chartres, she created in association with a dance teacher, a workshop to stimulate the arts.
A degree in Arts from Paris- Saint-Charles allowed her to explore new forms of artistic expression, including dance, that became her main inspiration.
Jenny Jacottet. Around France
After two years in Normandy, where she combined sculpture and teaching, Jenny Jacottet decided to devote herself mainly to metal sculpture.
She set up her first studio in the former cardboard factory of Mesnay. In 2010, she transferred it to the former cellar of a wine producer, in the small village of Voiteur, in the heart of the Jura region where she now lives.
Her sculpture succeeded in capturing the evanescent movements of the body.
She became successful very quickly.
Since 2012, Jenny Jacottet has been part of the Estades Gallery's permanent collection. Her work is on display in the Gallery four locations in Paris, Lyon, Toulon, and Baden-Baden.
The works of Jenny Jacottet
Jenny Jacottet creates her work combining metal, welding, and clay. Some parts include terracotta and raku, an ancient Japanese clay technique. She completes her pieces with metal.
She sculpts people, animals, dogs, and birds, but her favorite models are horses.
As a child, she practiced horseback riding with her mother, a skilled horsewoman. As an adult, she continues to express her passion for horses in drawing and sculpture.
For Jenny Jacottet, horses are a symbol of freedom and lightness. They are the only animals that can display such a wealth of expression.
Her characters, very diverse, unleash their strength or sometimes acknowledge the fragility and elegance of dancers.
Strongly inspired by performers, she seeks to capture the sudden movements of the body. Her sculpture thus becomes a silent expression of the instability of existence.
Jenny Jacottet's research is slow because she refuses parody or narrative. Her work alternates between construction and destruction, assembly and disassembly, collage, and cutting. A subtle play is set within fullness and emptiness, presence, and absence until she obtains a state of grace between strength and fragility.
See some examples of works by Jenny JACOTTET available for sale
See the work of Sculptors and Monumental Art exhibited at the Estades Gallery