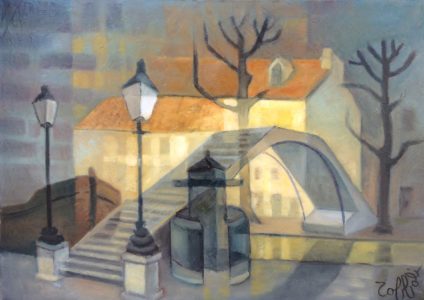 WHAT MICHEL ESTADES SAYS:
The work of Louis Toffoli, in particular his lithographs, is famed throughout the globe. His artistic world is vast and poetic, forged by many sources of inspiration. His paintings go straight to the heart and are literally transcended by his interplay between light and transparency.
Biography:
Louis Toffoli. His youth
Louis Toffoli was born at the beginning of the 20th century in Trieste.
Trieste is a port on the Adriatic that belonged at the time to the Austro-Hungarian Empire. His mother was from Slovenia and worked as a seamstress. His father, Italian, was a cook on a ship.
During the First World War, Italy declared war on Austria. His father was interned by the Austrians, forcing his family into exile in Italy. At the time, he was eight years old. He discovered in Padua, and in Florence, religious and secular art. His father died in Trieste shortly after his liberation in 1918. Louis Toffoli entered Trieste Naval School in 1924, but personal problems forced him to give up his studies. He worked as a blacksmith, later as a tailor, and attended evening classes at the Trieste Academy of Fine Arts. He presented two paintings in the constructivist style at the 1928 Trieste Biennale. Fascist propagandists took a close interest in his singular vision.
Louis Toffoli. Model maker in Paris
In 1930, Louis Toffoli took advantage of an organized trip to escape Mussolini's regime and emigrated to Paris. He lived in precarious conditions on rue Myrha in the heart of the Goutte d'Or neighborhood, without papers or money. Sylvia, his future wife, soon joined him. Denis Kalman, a renowned couturier from the Faubourg Saint Honoré, hired him, and his model-making talent was soon recognized. He obtained a craftsman trader's card and taught the art of cutting at the garment union chamber. Numerous orders allowed him to resettle in Alfortville in 1934, and in Charenton-le-Pont. He freelanced for Parisian fashion houses while taking drawing classes and trying his hand at poster technique. Day after day, he patiently refined his style, refusing work in advertising.
Louis Toffoli. The painter
Starting in 1935, he exhibited in the leading Parisian salons: Salon d'Automne, Salon des Indépendants, Salon des Peintres Témoins de leur Temps. In 1947, Luigi Toffoli, was naturalized French and became Louis Toffoli.
In the 1950s, he learned lithography. It contributed to his popularity. The pictorial expression of Louis Toffoli is characterized by a compelling observation of human posture, picturesque scenes, or man-made landscapes.
He exhibited in many countries, including Brazil, Spain, Israel, Morocco, and the United States.
The Toffoli Museum was inaugurated in 1995 in Charenton-le-Pont, where he lived. His work has been part of the Estades Gallery's permanent collection since 1990. It has been on display on the four sites of the Estades Gallery, in Paris, Lyon, Toulon, and Baden-Baden.
Louis Toffoli. Price of his work
Buy or sell an artwork by Louis Toffoli
You wish to sell or buy a work by Louis Toffoli?
Auction sales are appreciated because they bring you the opportunity to get artworks at a competitive price. They can also be an opportunity to buy lots and series.
However, this process requires a serious commitment on your part.
A private sale between individuals allows for a more personal and confidential transaction with a gallery owner or a professional art expert. They will guide you through the process. Their expertise and tailor-made advice will help you complete this exceptional purchase.
The Estades Gallery brings you the opportunity to acquire significant artwork by contemporary artists such as Louis Toffoli, whether print, drawing, original signed lithograph, or oil on canvas.
Whether you are an enthusiastic amateur or a dedicated collector, the Estades gallery will offer you expert advice and guide you in your art investment, beyond buying and selling art.
Louis Toffoli. The value of his art
The value of an artist or his work is a subject that fascinates potential art buyers, inquisitive individuals, and art lovers. Why do some contemporary artists such as Louis Toffoli sell some work for a few hundred euros while others can be valued at several thousand euros?
When buying and selling art, it is sometimes challenging for an inexperienced person to understand the price differences
Aesthetic or economic criteria, number of artists' exhibitions, many parameters are reviewed by experts. But what makes the price of a contemporary artist like Louis Toffoli is not only the aesthetic criteria, others are taken into account such as the prestige and notoriety of the places where the artist has been exhibited, the number and the name of his collectors. The value of an artist like Louis Toffoli is built on the long term. The role of the gallery owner in all this? He contributes to the evolution of the artist's value by supporting him, talking about his work, sharing the knowledge he has of it, buying and reselling his work as objects relevant to the history of art.
Louis Toffoli. Estimation
It's not easy to set the price of an artwork. You don't estimate an oil on canvas by an artist like Louis Toffoli as you would for a mobile phone.
To determine the price of artwork by Louis Toffoli or any other artist on the art market, art experts or auctioneers use a database and study the latest selling prices for similar works. They examine a set of precise criteria.
Material cost.
Technique
The market in which the artist operates
Aesthetics
The artist's career path
Format
Completion time
Complexity
An oil on canvas by Toffoli sells between €7,000 and €35,000.
Louis Toffoli. Authentication
Do you own an original work by Louis Toffoli signed by the artist? Then, you have reached the first step toward its authentication. The signature of a work of art is indeed a key element in the authentication process, but beware; it is not a complete guarantee of its authenticity. Why? Because, if the artists' work can be forged, so will his signature.
Many artists, like Louis Toffoli, have their signature forged. A certificate of authenticity is required to sell the work on the art market and get the best price. An expert specializing in the artists' work or a gallery owner needs to sign the certificate of authenticity.
See some examples of works by Louis TOFFOLI available for sale
See the work of Modern Masters exhibited at the Estades Gallery