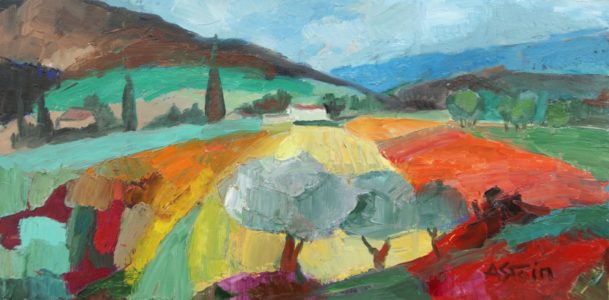 WHAT MICHEL ESTADES SAYS:
Humility, humanity and kindness: it's difficult to sum up Marie Astoin's personality in just a few words. A master of the brush, her whirlwind of colours, resolutely unique style and heartfelt honesty never fail to charm.
Biography:
For Marie Astoin, art is landscape painting. Marie Astoin is recognized as one of the best French colorists of her time. Originally from Toulon, she had a passion for painting at a very young age.
Her mother, a former student of François Nardi, encouraged sketching and drawing.
Her passion for art led her to enroll in the Fine Arts of Bayonne and decided to dedicate herself entirely to painting. She learned color subtleties with Paul Colin. She also took some classes with Serge Mako in Nice and Paris.
Marie Astoin has a poetic vision of people and nature. With liveliness and precision, she paints moments of our daily life, landscapes, and still lifes. With rigor and sensitivity, she renders in elegant details, moving artworks.
She found her best source of inspiration in Provence, a region she loves.
Meeting with Michel Estades. A decisive moment in the life of Marie Astoin
Marie Astoin never stopped painting, even if it was not her sole occupation until the 1980s.
Since 1990, she has been part of the Estades Gallery's permanent collection. Her work is featured on the four sites of the Gallery in Paris, Lyon, Toulon, and Baden-Baden.
Michel Estades exhibited her work throughout the country.
Major French and foreign collectors acquired her paintings captivated by their exceptional luminosity.
She likes to paint landscapes in which color dances, and sings the world of Provence. Her authentic and warm vision delights the public.
In September 2018, the Estades Gallery, in partnership with the Cultural Office and the City of Solliès-Pont, her native home, organized an exhibition in her honor that enchanted many admirers.
Marie Astoin work celebrates Provence
Marie Astoin's bright and luminous hues are never loud or threatening. They invite instant calm and cheerfulness. Viewers are captivated by the stability of her line and the rigor of the drawing. Explosions of color follow one another with regularity and give the canvas depth and unity.
It is the fruit of an experience acquired under Paul Colin, the author of the famous poster of "La Revue Nègre" in 1925, with whom she collaborated for three years.
The heiress to an expressionist technique close to Macke, but softer, Marie Astoin has been able to develop a unique, musical, and uncommonly modern style.
As if by magic, the Provençal pastels landscapes coated with deep ochres, radiate the Mediterranean warmth.
Marie Astoin. Price of her work
Authentication of a work by Marie Astoin
To authenticate your work, you can send us a request to estades1@gmail.com.
Marie Astoin. Buy or sell a work by Marie Astoin
Would you like to buy or sell a work Marie Astoin ? you are in the right place.
Michel Estades is the expert on the works of Marie Astoin, a reference art expert for this artist. Buying a painting by Marie Astoin (oil on canvas, gouache ) at Galerie Estades guarantees the authenticity and the quality of the work.
Marie Astoin. Estimate of her work
To determine the price of a drawing by Marie Astoin or any other artist on the market, art experts or auctioneers use a database and study the latest selling prices for similar works. They examine a set of precise criteria. Work dimension, theme, medium, material, the uniqueness of the work, and its condition are significant factors determining the artwork's price.
Marie Astoin. Value of her work
An oil on canvas by Marie Astoin can sell between €3,000 and €14,000.
See some examples of works by Marie ASTOIN available for sale
See the work of Masters of Provence exhibited at the Estades Gallery