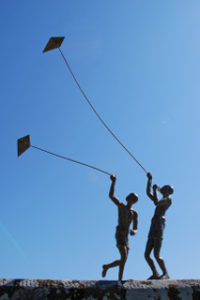 WHAT MICHEL ESTADES SAYS:
Marine de Soos is strongly inspired by the African continent, where she lived as a child, and her poetic oeuvre is instilled with its mystical power. Her sensual sculptures, filled with movement, invite us on a humanistic journey that transcends boundaries and nations.
Biography:
Marine de Soos and Africa's influence
Born in Paris in 1967, Marine de Soos spent part of her childhood in Africa. She draws much of her inspiration from it, especially its symbolic energy. Marine returned to France to start a marketing career in Paris. In 1991, she abandoned this environment and decided to devote herself to sculpture. She trained with American master sculptor Jonathan Hirschfeld.
Marine de Soos creates works that reproduce Africa's wisdom and invites the viewer to a timeless journey to the heart of knowledge.
Invoking a distant and dreamlike world, Marine de Soos extracts nostalgic poetry that, in the 21st-century materialistic world, is rich in significance. As Ludovic Bourdié summarizes, "What Marine de Soos gives us is a modest expression, an ethical and aesthetic injunction of her union with the world's very soul. »
Marine de Soos and the themes of her work
From Africa to Europe, Marine de Soos tells us as many authentic stories. They are moments of pure imaginary joy, communicative and reconstituted from images gleaned here and there, whether the gesture of a hand, the position of a foot, or the bent of a head.
Her bronze figures show simple scenes that seem to encapsulate our joy and hope for a better future. Contemplation guides her art. Through her work, she invites the viewer to relive moments she has seen and experienced. Furthermore, she seeks to communicate all that she has been able to appreciate and feel. Her work is rooted in geography and history. Marine de Soos is inspired by the people of Africa and Indonesia, whose ancestral gestures extend through time immemorial.
Distant emotions are abruptly tangible. After exploring the human condition's universality, Marine de Soos focuses her work on a bestiary, sacred cows of India, African elephants that abound in symbolism and grandeur.
Marine de Soos. Her success
Since 1999, Marine de Soos has regularly exhibited her monumental outdoor sculptures and is featured in many salons. She exhibits in places of influence as diverse as the headquarters of L'Oréal in Clichy, Primo Piano at the Bon Marché in Paris, La Demeure des Comtes de Champagne Taittinger in Reims, the French Embassy in New Delhi, Le Chabichou in Courchevel, the Hotel Golf de Chailly, the Château de Bois Guilbert, or the Maison des Quais on the Ile d'Yeu. She is a laureate of the prestigious Taylor Foundation scholarship. Since 2017, her bronzes are part of the Estades Gallery's permanent collection. They are exhibited on the Gallery four sites in Paris, Lyon, Toulon, and Baden-Baden (Germany).
Marine de Soos. Price of Marine de Soos' work
Marine de Soos. Estimate
To determine the price of a bronze sculpture by Marine de Soos or any other modern artist on the art market today, art experts, gallerists or auctioneers will use certain variables and will also study the latest selling prices for similar works.
To determine the price of a bronze by Marine de Soos, art experts or auctioneers use a database and study the latest selling prices for similar works. They examine a set of precise criteria. Work dimension, theme, medium, material, the uniqueness of the work, and its condition.
These criteria will be able to define the work's worth and the price at which it will likely sell for. A bronze sculpture by Marine de Soossell sells between €3,000 and €42,000.
Marine de Soos. Authentication
Do you own a work signed by Marine de Soos? The signature is the first step in its authentication. Unfortunately, "signed" and "authenticated" do not necessarily add up because a signature can be reproduced.
Many artists like Marine de Soos have their signature forged. A certificate of authenticity is required to sell the work on the art market and get the best price for it. An expert specializing in the artists' work or a gallery owner needs to sign the certificate of authenticity.
Marine de Soos. The worth of her work.
The medium used by the artist, painting, sculpture, drawing, and lithograph helps understand the worth of an artwork by Marine de Soos.
In the art world, if there are as many artists as there are means of expression, their work's price range can also be a surprise. In some cases, works by Marine de Soos have price ranges that can vary from a few hundred to several thousand euros, if not more. Art lovers, collectors, regular buyers, or investors are often startled by such differences. Is it justified?
Eventually, how is an artwork of Marine de Soos assessed? Here are some criteria: the artist notoriety, his impact in art history, his boldness, creativity, inventiveness, his recognition by his peers, by art experts, gallery owners, specialized cultural institutions, reputable auction houses, the uniqueness of the work, the creation date (some periods of an artist's career are more valuable than others), the medium and technique, etc.
Marine de Soos. Buy or sell an artwork by Marine de Soos ?
If you wish to buy or sell a work by Marine de Soos, there are several options.
Auction sales are appreciated because they bring you the opportunity to get artworks at a competitive price. They can also be an opportunity to buy lots and series.
However, this process requires a serious commitment on your part.
A private sale between individuals allows for a more personal and confidential transaction with a gallery owner or a professional art expert. They will guide you through the process. Their expertise and tailor-made advice will help you complete this exceptional purchase.
The Estades Gallery brings you the opportunity to acquire major works by Marine de Soos, whether print, drawing, original signed lithograph, oil on canvas. Beyond buying and selling art, the Estades gallery will offer you expert advice and guide you in your art investment, whether you are an enthusiastic amateur or a dedicated collector.
See some examples of works by Marine DE SOOS available for sale
See the work of Sculptors and Monumental Art exhibited at the Estades Gallery