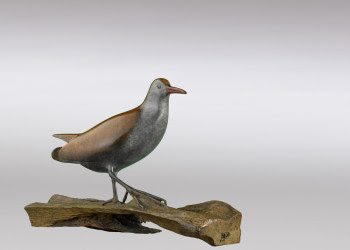 WHAT MICHEL ESTADES SAYS:
A passionate art dealer with 30 years' expertise, Michel Estades loves sharing his knowledge and enthusiasm for his favourite artists. His 4 galleries permanently exhibit many 20th and 21st-century figurative artists, including the world's greatest masters, masters from the Provencal and Lyon schools, modern and contemporary masters and a constant flow of talented new painters and sculptors.
BIOGRAPHY:
"Mark Dedrie, an artist in movement"
By Robin d'Arcy Shillcock
Mark Dedrie's sculptures draw to their smooth appearance and highly stylized design.
Indeed, although Dedrie's approach is one of color giving way to form, it does not represent classicism rigorously. Instead, the artist converts a world of color and action into a world of appearance, volume, and pure line. He manages to evoke lightness with bronze, a heavy material. The result is visually appealing. His sculptures are pleasing to the touch. Few sculptors can effectively capture the style and shape of an animal, let alone achieve Mark Dedrie's refinement. The results are refined, sensual sculptures of ducks and other wading birds.
It brings to mind François Pompon (1855-1933), who helped fabricate Rodin marbles, before becoming one of the most significant animal sculptors of his time. His work stirred the artistic current described as the 'Movement of the Form'. It was a reaction to anecdotal animal artists such as Barye and Fremiet. They were mainly interested in subjects such as the struggle of the titans, gorillas kidnapping beautiful virgins, leopards wrestling with snakes, etc.
Dedrie seeks the same level of fluidity and perfection as Adrian Sorrel (England, 1932) and Claude Lhoste (France, 1929). Lhoste extended his art to a broader range of subjects because of his long experience as a sculptor. In the catalog of the Birds in Art's annual exhibition, held for the last 25 years at the Leigh Yawkey Woodson Art Museum in Wausau (USA), some artists matched the work of Mark Dedrie : Emily Parlman (USA, 1927), or Burt Brent (USA, 1938), a plastic surgeon whose sculptures bear the imprint of his profession, Charles Almond (USA, 1938), Geoffrey Dashwood (UK, 1947) and Ross Matteson (USA, 1957).
The latter is the closest to Dedrie's work, but harder and more distant. Dedrie's sensuality is closer to that of woodcarvers, such as Hank Tyler (USA 1944) and the Dutchman Jaap Deelder (1952). They polish their sculptures by coating them with oil to make the wood's grain visible.
Great artists do not fall from trees. Thus, Dedrie too, is the product of various ideas, influences, and currents. Some of them are hardly noticeable, others can only be guessed at.
Dedrie is undoubtedly influenced by his years of apprenticeship as a bronze patina specialist – his primary profession. He is a self-taught artist who seeks to convey his vision and emotion, with skill, perfect knowledge of the tool, and keen understanding of the birds.
Birds
Birds are a symbol of freedom, says Mark Dedrie. Paradoxically, all forms of symbolism are gradually disappearing from his work. His human figures, both symbolic and androgynous, give way to birds and animals that are recognizable, indeed, but that requires searching for a deeper meaning. Despite a clear knowledge of the bird's universe, they remain mysterious and elusive messengers of symbolic meaning. Of all the world's creatures, birds are closest to angels! Mark Dedrie studies birds with empathy. He exceeds it when he observes live birds as well as a stuffed specimen. He studies their shapes and poses. He uses photography to penetrate their world, dream, and illusion. Even before he begins his work, his eye and mind filter and interpret mandarin duck or curlew's features. He designs his life-size wax or plasticine sculptures using his hands and fingers as in an act of love. Each new sculpture is the result of a painful maturation. He captures what makes these creatures so inaccessible, their purity and lightness. He believes that simplifying his subjects conveys best their state of mind. The birds themselves do not collaborate. Of course, each species has a typical form, making it possible to recognize the owl or the crow. However, a bird is much more than a species. It also has a personality, a unique character, a unique behavior.
Moreover, protruding parts, such as legs and beak, create a technical and artistic problem and even risk breaking the sculpture's unity. Despite these changes, the curlew, the mandarin, the little owl, the graceful kingfisher can easily be identified. So is the fascinating swan.
His swan is a striking presence. The person who decided to purchase the large sculpture 'Crescendo' while Mark and I walked around the gallery never tired of admiring this work. It was a true Dedrie, and yet different. Exuberant, majestic, a tour de force created to impress.
According to an Icelandic story, swans migrated to the moon after grieving. Dedrie managed to capture accurately the magical, almost lunar quality of a swan. In a personal style, he interpreted the figure of a swan. He deviated from the wings' correct form to avoid too heraldic a pose. Inspired by photographs of birds in full flight, wings blurred and fuzzy, the sculptor only suggested their movement.
Attempting to indicate a change is often a challenging quandary when working in bronze. Dedrie approaches it through what could be called a new perspective, using all the means available to him. The wings' profile goes beyond anatomical exactitude. They seem to inflate and capture air as if, at any moment, they could carry the bird in space. It shows similarities with Lhoste's work, notably in his 1966 Marble Pelican or 1988 Bronze Bird. Because the human eye does not entirely capture wings' movement, the artist can call upon new sculptural possibilities. These two artists invoke enigmatic creatures that evolve on the periphery of our world, always trying to escape our attention.
The alchemy of the studio
Less is more is Mark Dedrie's underlying reasoning. It isn't easy to achieve. Producing compelling and stylized animal sculptures requires a long preliminary experimentation process, difficult decisions, and painful choices.
His sculptures are, indeed, made with great care and precision. A sculptor friend pointed out that to fully appreciate them, one must not only look at them from a distance but also touch them to feel what the artist has experienced.
I took this advice at an exhibition at the Musée d'Orsay in Paris. I touched several sculptures until some guards stopped us and threatened to kick us out. So I decided to visit the Middelheim open-air museum in Antwerp. There, you can feel sculptures like my favorite, Pompon's Polar Bear, without being accosted by museum guards. The sculptures of Marc Dedrie, such as Stone Owl, the prince-consort of Pallas Athena, the Greek goddess of wisdom and the arts, or the elegant curlew with its long beak, and the graceful kingfisher ready to dive in some hidden stream, all beg to be touched. In his tireless search for the essential, Mark Dedrie has purified his subjects and kept them alive in graceful, pearly bronze shells. It originates in his love of the craft, the choice of material, and the tools he uses. Much depends on how he heats and flattens the wax, how he shapes the mold, and smoothes the resulting wax model. During the bronze casting process, the original wax model melts. However, the bird reappears after the removal from the mold, like a sphinx rising from its ashes.
Although the sculptures can be admired from a distance, they retain all their qualities from close. The pearly quality of the material becomes visible. The challenge is to apply the patina in such a way as to make it enjoyable without becoming garish and far removed from the excreta-colored patinas that Dutch sculptors seem to prefer.
In close-up, a lack of detail is apparent. Thus the eyes which nevertheless give life to the sculpture are here often just as simple hollows oriented toward the light. The sculptor is interested in the synthesis of large volumes, not in factual details. The spectator's gaze can recognize an eye in a hollow, thus give life to the artwork.
The elegance and lightness of the birds are only suggested. The stability of the bird must be anchored from the beginning of the process. This performance, combined with the attractive marbled patina, suggests lightness and weightlessness, and skillfully hides the fact that these are heavy and rigid materials. Ultimately, the patina increases the tactile quality of the sculptures.
The simplicity and nimbleness of the sculpture make it easy to lose sight of what came before. The production of bronze or stainless steel is a lengthy, slow, and expensive process. Bronze remains as it has always been since the dawn of time, a manual and onerous craft. To achieve a high degree of perfection, elegance, and harmony, the artist has to perform a succession of exceptionally delicate tasks, focusing on specifics that will disappear in the final result. It is, therefore, to achieve more, less must be shown. Less is more, indeed.
An artist in motion
Artists are unpredictable. It is precisely what makes them attractive. They evolve, change their style, or allow themselves to be carried along by new passions. Five years ago, Mark Dedrie began his series of bird sculptures, and since then, he has not deviated from this path. Symbols, anecdotes, and also some level of mystery have given way to a well-structured figuration. It is not one-sided imagery or dull documentation of animal species. Mark Dedrie evolves by remaining halfway between figuration and pure abstraction. Studying his work and its evolution over the last five years, the viewer will notice that his forms have blossomed, like a chick emerging from an egg, discovering the surrounding world. The strict and compact forms of the beginning that characterized his sculptures, have evolved towards greater lightness. In a way, they have become airier. One day, they may start to breathe!
The mysterious process of creation occurs in the artist's subconscious. This process is more mysterious than alchemy. I wish I could find and understand the magic that goes into an artist's brain and what troubles him. Does he anticipate each new creation as accurately as he will materialize it later? Does he glimpse only loosely into it? Does he see the different possibilities simultaneously? Alas, any form of introspection in the artist's mind is impossible. One must be satisfied by his ideas transposed into metal.
During the exchanges of ideas I had with him, he expressed his intention to evolve and renew himself. He stated he wanted to get closer to naturalism. "I think I will add just one detail. "He stops speaking, hesitates, and adds, "This feature should replace and symbolize all I omit and represent the bird's wholeness.
There are still distances to be traveled, refinements to be made. No artist, no man, perhaps, can progress without goals. Lack of growth means total standstill. A distant horizon shines in his eyes. He says: "I want to progress. I am capable of it. I will do it.
In his encounter with the many obstacles he has to conquer, Mark Dedrie sets off towards a destiny we cannot discern. Given his qualities and his keen aesthetics, I rest curious to watch his evolution. It means that this book and the accompanying exhibition are only one step, a momentary snapshot, a balance sheet taking into account the artist's intention and ambition. We fully appreciate that a retrospective is a tour de force, a moment of reflection, and a recognition of five years of hard work. It is also a moment of truth. The artist states, 'This is where I am, here I am.
See some examples of works by Mark DEDRIE available for sale
See the work of Sculptors and Monumental Art exhibited at the Estades Gallery