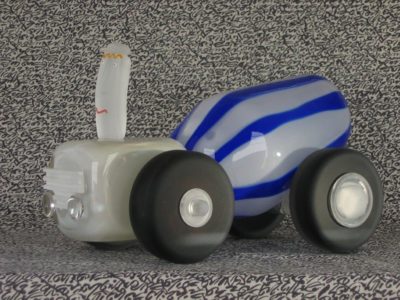 WHAT MICHEL ESTADES SAYS:
A passionate art dealer with 30 years' expertise, Michel Estades loves sharing his knowledge and enthusiasm for his favourite artists. His 4 galleries permanently exhibit many 20th and 21st-century figurative artists, including the world's greatest masters, masters from the Provencal and Lyon schools, modern and contemporary masters and a constant flow of talented new painters and sculptors.
BIOGRAPHY:
A transparent and colorful universe
"Nicolas Morin follows a thread that keeps him in line with a rich ancestral tradition, the art of glassblowing. This tradition developed over time, produces vessels, glasses, bowls, and vases. Nicolas Morin's work is non-utilitarian, yet he never strays too far from the visible. It is the essence of this craft. The field is vast, the possibilities infinite. He chooses his language in bursts of color and gorgeous graphics enclosed in simple forms.Sculptures inspired by African or Oceanian art caracole in supervised freedom."
Martine Gayot " a famous first name " – Art et Décoration.
"I define myself as a creator of contemporary glass, following traditional practices, says Nicolas Morin. What I like the most in my pursuit is the alchemy of the material, the mixture of glass with sometimes unstable color, silver, or copper sheets in my compositions. It enriches my palette."
Bruno Auboiron " le Tourneur de Verre " – Alpes Loisirs.
See some examples of works by Nicolas MORIN available for sale
See the work of Sculptors and Monumental Art exhibited at the Estades Gallery