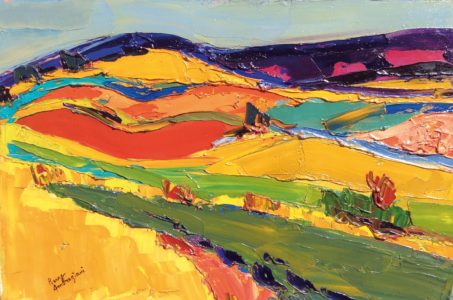 WHAT MICHEL ESTADES SAYS:
An entirely self-taught artist, Pierre Ambrogiani defines himself as a "gourmet of colour". Born into a modest family, he sought refuge in his inner world from an early age thanks to his artistic talent. His prolific career profoundly marked the French Expressionist movement.
Biography:
Marseille and the beginnings of Provençal painting.
Pierre Ambrogiani was born in Ajaccio, and his family resettled in Marseille. His youth was that of the children of his new hometown. He developed his artistic expression at a young age and was attracted to drawing and modeling. As a child, he built small figurines of clay covered from the nearby ground.
He painted his figurines as characters from his neighborhood, such as a lamplighter.
At the age of 12, he became a "little telegraphist", a kind of letter carrier. The following year he exhibited his figures in a crib at an annual meeting of mail carriers. In 1923, his colorful figurines attracted the attention of painter Auzias. He invited him to share an exhibit space at the goldsmith Langlois.
Little by little, the young artist found himself the forerunner of a Provencal painting style known as "action painting", including found objects in the paint.
Pierre Ambrogiani. Colorist of the South of France.
In 1937, he decided to consecrate himself entirely to painting. He was a regular participant in the Salon d'Automne, of which he became a member.
From 1948 to 1980, he was part of numerous collective exhibitions of contemporary art in France and abroad in Paris, Marseille, Toulouse, New York, London, Oxford, Philadelphia, Turin, and Zurich.
Over the years, Pierre Ambrogiani has become renowned in France. He is a personality of international stature, carrying high the South of France's colors.
His works reveal a modern Provence, where forms dissolve into color.
Stripping form and drawing, the artist gets closer to an abstraction, willingly figurative.
Pierre Ambrogiani. A different perspective on Provence landscape painting
Pierre Ambrogiani invests himself in a great wealth of themes: portraits, nudes, landscapes, or still lifes. His palette, blue, lilac, madder, sulfur, green, and orange, follows after the colors mentioned in 1888 by Vincent Van Gogh.
The seemingly unfinished aspect of his paintings eventually imposes an innovative vision of the Provençal landscape.
Marcel Pagnol said of him: ".When watching his still lifes, farms, and reapers, it is not ridiculous to pronounce the name of Cézanne".
From 1962 on, Pierre Ambrogiani's name appeared frequently in auction houses, in Marseille, and at Drouot, in Paris.
Since 1990, his work has been part of the Estade permanent collection. It is featured in the Gallery four locations in Paris, Lyon, Toulon, and Baden-Baden.
Pierre Ambrogiani. Price of his work
Pierre Ambrogiani. His value
Understanding how the price of an artist is set and evolves is not always obvious, whatever the medium, painting, sculpture, drawing, lithograph.
Art lovers, collectors, regular buyers, or investors are often startled by such price difference. It is understandable.
So how do you explain the price of an artwork by an artist ? It depends on several criteria: the artist notoriety his impact in art history, his boldness, creativity, inventiveness, his recognition by his peers, by art experts, gallery owners, specialized cultural institutions, reputable auction houses, the uniqueness of the work, the creation date (some periods of an artist's career are more valuable than others, the medium and technique, etc.
An oil on canvas by Pierre Ambrogiani sells between €7,000 and €25,000. A gouache sells between €2,000 and €5,000.
Pierre Ambrogiani. Authentication
To authenticate your work, you can send us a request to estades1@gmail.com.
Pierre Ambrogiani. Buy or sell an artwork by Pierre Ambrogiani
You want to buy or sell a work by Pierre Ambrogiani ? you are in the right place.
Michel Estades is an expert on the works of Pierre Ambrogiani, a reference art expert for this artist. Buying a painting by Pierre Ambrogiani (oil on canvas, gouache or woodcut) at Galerie Estades guarantees the authenticity and the quality of the work.
See some examples of works by Pierre AMBROGIANI available for sale
See the work of Masters of Provence exhibited at the Estades Gallery