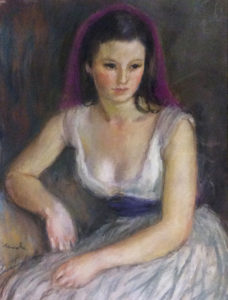 WHAT MICHEL ESTADES SAYS:
A discreet artist, Pierre Deval was also known as the "Master of Orvès" in reference to his home, the Domaine d'Orvès, which vastly influenced his work. Instilled with an intimate and delicately-colourful atmosphere, his refined paintings showcase uncluttered landscapes and sensuous women.
Biography:
Pierre Deval origins
The artist Pierre Deval is not easy to classify.
Born in Lyon, resettled in La Valette du Var from 1925 until his death, he is considered as Lyonnais by some and Provencal by others.
Similarly, his paintings are dual, seemingly "modern" among the Classics and "classic" among the Moderns.
Pierre Deval's destiny took shape very early on. He studied and worked in Fernand Cormon's studio in Paris and joined the Dada movement along with Breton, Tzara, and Aragon.
In 1921, at the age of 24, his work "Ariane", was exhibited at the Salon d'Automne and won the Jean-Julien Lemordant prize.
This success opened for him the doors of the villa Abd el Tif in Algiers, where he was a resident for two years and became friends with Albert Marquet.
Afterward, he lived for a while in Paris, traveled with Marquet, and got acquainted with some of the most illustrious "Fauves" and other great artists of the time such as Charles Camoin, Henri Charles Manguin, and Henri Matisse.
Pierre Deval. His style
In 1925, he settled permanently in the South of France, at the Château d'Orvès in La Valette du Var. The park is labelled today Jardin Remarquable.
Very quickly, Pierre Deval and his estate became one. So much so that Orvès ended up becoming an integral part of his work. Little by little, dazzled by the beauty of the area, Pierre Deval became an authentic Provencal painter.
His paintings are a true hymn to life. They are divided between luminous landscapes and women. He celebrates them with infinite subtlety in watercolor, oil or pastel, a style in which he excels. His canvases of a suave intimacy communicate happiness. A refined colorist, Pierre Deval is one of the greatest figurative painters of the 20th century.
Pierre Deval. His legacy
This artist, of model discretion, crosses the 20th century by voluntarily staying away from the renowned commercial circuits and the Parisian art circles. His withdrawal explains why he fell into relative obscurity. Fortunately, this trend has begun to reverse since the 2000s.
Rediscovered by the art market, he has been the subject of a major exhibition to celebrate his centenary. It was followed by two significant retrospectives: one in 1998 at the Musée de Toulon and the other in 1999 at the Maison Ravier in Morestel. His work is exhibited in museums in Luxembourg, Lyon, Mulhouse, Toulon, Narbonne, Algiers and Tokyo. Since 1987, Pierre Deval has been part of the Estades Gallery's permanent collection. His work is exhibited in the Gallery four locations in Paris, Lyon, Toulon, and Baden-Baden.
Pierre Deval. Price of an artwork by Pierre Deval
Pierre Deval : estimate
To determine the price of an oil on canvas, pastel or watercolour by Pierre Deval, art experts or auctioneers use a database and study the latest selling prices for similar works. They examine a set of precise criteria. Work dimension, theme, medium, material, the uniqueness of the work, and its condition are significant factors determining the artwork's price.
To estimate a work by an artist such , one will look for certain specific criteria:
Dimension
Condition
Uniqueness
Theme
Technique
Signature
These criteria will then be able to define the value of the work and the price at which it could be sold.
An oil on canvas by Pierre Deval sells between €4,000 and €18,000. A pastel between €2,000 and €16,000, and a watercolour between €1,000 and €4,000.
Pierre Deval. Buy or sell an artwork by Pierre Deval
If you wish to buy or sell a work by Pierre Deval, several options are available to you:
Auction sales are appreciated because they bring you the opportunity to get artworks at a competitive price. They can also be an opportunity to buy lots and series.
However, this process requires a serious commitment on your part.
A private sale between individuals allows for a more personal and confidential transaction with a gallery owner or a professional art expert. They will guide you through the process. Their expertise and tailor-made advice will help you complete this exceptional purchase.
The Estades Gallery brings you the opportunity to acquire major works by Pierre Deval,
Drawing, oil on canvas, gouache, watercolour, pastel. Beyond buying and selling art, the Estades gallery will offer you expert advice and guide you in your art investment, whether you are an enthusiastic amateur or a dedicated collector.
Pierre Deval. Value of his work
Would you like to buy or sell a work Pierre Deval ? you are in the right place.
Michel Estades is an expert on the works of Pierre Deval, a reference art expert for this artist. Buying a painting by Pierre Deval (oil on canvas, gouache, watercolor, pastel) at Galerie Estades guarantees the authenticity and the quality of the work.
Pierre Deval. Authentication
To authenticate your work, you can send us a request to estades1@gmail.com.
See some examples of works by Pierre DEVAL available for sale
See the work of Masters of Provence exhibited at the Estades Gallery