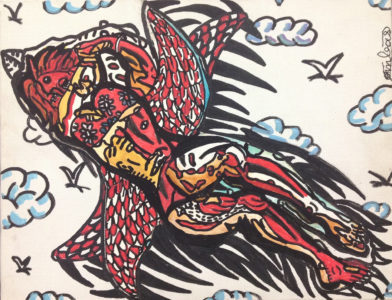 WHAT MICHEL ESTADES SAYS:
A painter, sculptor, illustrator and musician, Robert Combas is at the origin of the free figurative painting movement in France and Europe at the dawn of the Eighties. A major collector of vinyl records and passionate rock aficionado, music has forged his rapport with painting.
Biography:
Robert Combas. Breaking conventions
Robert Combas was born in Lyon. His family moved to Sète when he was a child. After high school, he enrolled at the Montpellier School of Fine Arts in 1975.
Little by little, he defined his style opposing conceptual art that was predominant in the art scene at the time.
Not belonging to any movement, he promoted freedom of creation. He began a series of paintings, "Batailles", that treated undeveloped countries with cynicism and sarcasm, creating the movement of "Arab Pop Art". At the beginning of the 1980s, he changed direction. Robert and Hervé Di Rosa grew up together in Sète. Separated for a while, they reconnected as they were moving in the same Parisian salons. They met art critic Bernard Lamarche-Vadel, and artists Rémi Blanchard, Jean-Charles Blais, Jean-Michel Alberola, Denis Laget, and Catherine Viollet. Together, they organized an exhibition in Vadel's apartment in 1981. Free figuration was born.
Robert Combas, His positive attitude
Unbridled joviality characterizes his art. Away from tears or romantic contemplation, his paintings inspire happiness, laughter, joy, and good fun. Devoid of negative feelings, this movement contrasts sharply with the severe and austere art of the 1970s. Part of a new generation comfortable in their skin, tired of feeling guilty about bygone, Combas translate his feeling into art. Themes, such as sexuality, love, comics, music, are approached with spontaneity and simplicity.
Robert Combas. His relationship with music
Robert Combas manipulates daily life images, mixing historical and mythological references. Following graffiti and comics style, he mixes raw lines and bold colors.
His source of inspiration is a popular culture accessible by all, such as graffiti, comic strips, street art, and rock music, which he loves. Combas is known for his extensive collection of vinyl records, and his knowledge of the Anglo-American culture of the sixties. In 1978, he founded a rock band, "Les Démodés", which lasted barely a year. In 2012, with his friend and accomplice Lucas Mancione, he created another band "Les Sans Pattes".
Since the 2000s, the Estades Gallery has exhibited his work at the Gallery's four locations in Paris, Lyon, Toulon, and Baden-Baden.
See some examples of works by Robert COMBAS available for sale
See the work of Contemporary Masters exhibited at the Estades Gallery