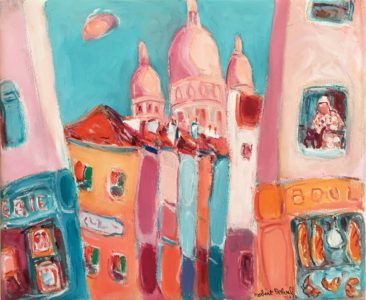 WHAT MICHEL ESTADES SAYS:
Robert Delval is an eternally inquisitive youngster and tireless traveller who has always refused a sedentary life. Inspired by Henri Matisse and Pierre Bonnard, he has forged a unique style redolent with poetic power, using colour as his medium.
BIOGRAPHY:
Robert Delval was born in Paris, rue des Saules. He is a real Montmartre resident. His mother was a postcard colorist.
He grew up among color tubes and naturally started painting and drawing at the age of 6.
Street painters of his childhood neighborhood, books, and museums formed his original artistic education.
In 1947, he studied at the Haute École Claude Bernard in Paris and created his first gouaches. In 1952, he enrolled at the Arts-Déco in Paris. It was also at this time that he discovered Henri Matisse and Pierre Bonnard. At the age of 25, he decided to seek different horizons. Between 1959 and 1963, his drawings and watercolors allowed him to travel through Italy, Spain, Greece, and France. He spent half a year on the Riviera and in Saint-Tropez. Then he went to the United States with 20 dollars in his pocket. His first night in New York, he painted a few watercolors that sold immediately.
Robert Delval stylistic inclination was Pierre Bonnard and Henri Matisse. However, he quickly moved away from them to harmonize his palette and develop his sense of space. As if out of his childhood, his shades and tone are both soft and shimmering. His flat tones, although sometimes very bright, are never disruptive. His language is that of emotion. With talent, he gathers color on the canvas. In a unique style, he reveals a portrait, a landscape, or a still life, in a subtle and harmonious.composition. The apparent casualness of his art translates into a spirit of innocence and celebration.
In 1974, the poet Bernard Dimey wrote in the preface of the catalog of his first exhibition: "There are people for whom fate insidiously develops from childhood. It never let go! As a result, the individual grows up without knowing his path is set. Many get lost along the way, for sure. It is inevitable. In his case, destiny tired before the man.
There is no doubt that Robert Delval knew how to follow the path of his destiny. Numerous exhibitions have been dedicated to him, both in France and Europe, in the United States and Canada.
Since 2009, his work is on permanent display on the four sites of the Estades Gallery, in Paris, Lyon, Toulon, and Baden-Baden.
See some examples of works by Robert DELVAL available for sale
See the work of Modern Masters exhibited at the Estades Gallery