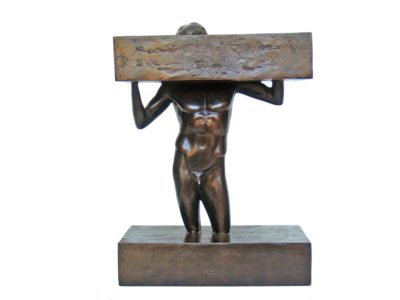 WHAT MICHEL ESTADES SAYS:
Sacha Sosno is an artist of many faces. The man behind the "art of obliteration" concept, he is famed for his square heads. He enjoys international renown and his open-air sculptures are shown at various venues in Europe and China, in particular Beijing.
Biography:
Sacha Sosno and the school of Nice
Alexandre Sosnowsky, aka Sacha Sosno, was born in Marseille. His father was from Estonia and his mother from Nice. He grew up between Riga and Nice. Henri Matisse was his next-door neighbor as he was discovering painting in 1948.
In 1956, he met Yves Klein and Arman. His connection with Yves Klein's monochrome caused him to burn most of his production of the time. He left for Paris in 1958 and enrolled in the Foreign Languages school at Sciences Po. He attended law school and the Sorbonne Film Institute. In 1961, he returned to Nice and created "Sud-Communications" magazine. In its June issue, he set out the first theory of the "Ecole de Nice", at the crossroads of several movements, including New Realism.
Between 1967 and 1969, after a stint in the army and being involved in archaeology, Sacha Sosno, author, and columnist, became war reporter in Biafra, Bangladesh, and Ireland.
Sacha Sosno and obliterated art
He returned to art and created his first obliterated photographs. He refined this concept later in sculpture and architecture. Most of Sacha Sosno's work is indeed "obliterated". It includes an opening that allows one to see through. The idea behind it is to hide to see better. He explains, "I try to force you to imagine. I only do 50% of the work, the other half, you complete the sculpture yourself". Whether in his painting or sculpture, Sacha Sosno plays with emptiness and fullness, creating images that question archetypes and our unconscious.
His first "obliterations" came from photos he took in Biafra and Bangladesh in 1967-68. How to show unbearable reality?
The fame of Sacha Sosno
Ensues an eclectic and incredibly vibrant journey. Major international achievements, video art, performances, painting on photographic canvas, commissions for monumental architecture and sculpture. Sacha Sosno is particularly famous for his square heads. A brilliant pioneer, in 2002, he created a giant sculpture in Nice in collaboration with the architects Yves Bayard and Francis Chapus. The 26-meter square-headed aluminum structure houses the offices of the local library. A world-famous artist, he was named Chevalier des Arts et Lettres in 2001. Since 2017, his bronze and steel sculptures have been on permanent display at the Estades Gallery's four locations in Paris, Lyon, Toulon, and Baden-Baden (Germany).
Sacha Sosno. Price of an artwork by Sacha Sosno
Sacha Sosno. Authentication
To authenticate your work, you can send us a request to estades1@gmail.com.
Sacha Sosno. Appraisal of an artwork by Sacha Sosno
A steel sculpture by Sacha Sosno sells between €1,500 and €20,000, a bronze sculpture sells between €2,500 and €35,000.
Sacha Sosno. Buy or sell an artwork by Sacha Sosno
Would you like to buy or sell a work Sacha Sosno ? you are in the right place.
Michel Estades is an expert on the works of Sacha Sosno, a reference art expert for this artist. Buying a work by Sacha Sosno (steel sculpture, bronze sculpture ) at Galerie Estades guarantees the authenticity and the quality of the work.
See some examples of works by Sacha SOSNO available for sale
See the work of Sculptors and Monumental Art exhibited at the Estades Gallery