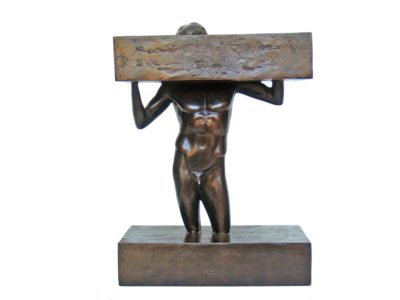 WHAT MICHEL ESTADES SAYS:
Sacha Sosno is an artist of many faces. The man behind the "art of obliteration" concept, he is famed for his square heads. He enjoys international renown and his open-air sculptures are shown at various venues in Europe and China, in particular Beijing.
Biography:
Sacha Sosno and the school of Nice
Alexandre Sosnowsky, aka Sacha Sosno, was born in Marseille. His father was from Estonia and his mother from Nice. He grew up between Riga and Nice. Henri Matisse was his next-door neighbor as he was discovering painting in 1948.
In 1956, he met Yves Klein and Arman. His connection with Yves Klein's monochrome caused him to burn most of his production of the time. He left for Paris in 1958 and enrolled in the Foreign Languages school at Sciences Po. He attended law school and the Sorbonne Film Institute. In 1961, he returned to Nice and created "Sud-Communications" magazine. In its June issue, he set out the first theory of the "Ecole de Nice", at the crossroads of several movements, including New Realism.
Between 1967 and 1969, after a stint in the army and being involved in archaeology, Sacha Sosno, author, and columnist, became war reporter in Biafra, Bangladesh, and Ireland.
Sacha Sosno and obliterated art
He returned to art and created his first obliterated photographs. He refined this concept later in sculpture and architecture. Most of Sacha Sosno's work is indeed "obliterated". It includes an opening that allows one to see through. The idea behind it is to hide to see better. He explains, "I try to force you to imagine. I only do 50% of the work, the other half, you complete the sculpture yourself". Whether in his painting or sculpture, Sacha Sosno plays with emptiness and fullness, creating images that question archetypes and our unconscious.
His first "obliterations" came from photos he took in Biafra and Bangladesh in 1967-68. How to show unbearable reality?
The fame of Sacha Sosno
Ensues an eclectic and incredibly vibrant journey. Major international achievements, video art, performances, painting on photographic canvas, commissions for monumental architecture and sculpture. Sacha Sosno is particularly famous for his square heads. A brilliant pioneer, in 2002, he created a giant sculpture in Nice in collaboration with the architects Yves Bayard and Francis Chapus. The 26-meter square-headed aluminum structure houses the offices of the local library. A world-famous artist, he was named Chevalier des Arts et Lettres in 2001. Since 2017, his bronze and steel sculptures have been on permanent display at the Estades Gallery's four locations in Paris, Lyon, Toulon, and Baden-Baden (Germany).
Sacha Sosno. Price of an artwork by Sacha Sosno
Sacha Sosno and the value of his work
The value of an artist or his work is a subject that fascinates potential art buyers, inquisitive individuals, and art lovers. Why do some contemporary artists such as Sacha Sosno sell some work for a few hundred euros while others can be valued at several thousand euros?
When buying and selling art, it is sometimes challenging for an inexperienced person to understand the price differences.
Aesthetic or economic criteria, number of exhibitions, many parameters contribute to the value of an artist. The value of a contemporary artist like Sacha Sosno is not only based on aesthetics. However, it includes other variables such as the number of exhibitions, prestige, and notoriety of the places where the artist exhibited, the number, and the name of his collectors. It is built over time.
The gallery owner contributes to the art promotion of the artist, notably by supporting the artist, talking about his work, sharing the knowledge he has of it, buying and selling his work as if it is a significant contribution to the history of art.
Sacha Sosno. Authentication
Do you own an artwork signed by Sacha Sosno? The signature is the first step in its authentication. Unfortunately, "signed" and "authenticated" do not necessarily add up because a signature can be reproduced.
Many artists, like Sacha Sosno, have their signature forged. A certificate of authenticity is required to sell the work on the art market and get the best price. An expert specializing in the artists' work or a gallery owner needs to sign the certificate of authenticity.
Sacha Sosno. Appraisal of an artwork by Sacha Sosno
It is challenging to set a price on an artwork based on the value of the artist.
You do not set a price on a steel or bronze sculpture by an artist like Sacha Sosno as you would estimate the price of a coffee cup. Wanting of any practical aspect, how can we evaluate an art object, a talent, an emotion, an aura? Some will conclude that the value of a work of art is, therefore, relative and subjective. However, there are also specific realities helping estimate the work of a contemporary artist like Sacha Sosno. These are very detailed:
Material cost.
Technique
Market in which the artist operates
Aesthetics
The artist's career path
Format
Completion time
Complexity
A steel sculpture by Sacha Sosno sells between €1,500 and €20,000, a bronze sculpture sells between €2,500 and €35,000.
Sacha Sosno. Buy or sell an artwork by Sacha Sosno
Auction sales are appreciated because they bring you the opportunity to get artworks at a competitive price. They can also be an opportunity to buy lots and series.
However, this process requires a serious commitment on your part.
A private sale between individuals allows for a more personal and confidential transaction with a gallery owner or a professional art expert. They will guide you through the process. Their expertise and tailor-made advice will help you complete this exceptional purchase.
The Estades Gallery brings you the opportunity to acquire major works by Sacha Sosno, whether print, drawing, original signed lithograph, oil on canvas. Beyond buying and selling art, the Estades gallery will offer you expert advice and guide you in your art investment, whether you are an enthusiastic amateur or a dedicated collector. But beyond buying and selling art, the Estades gallery offers its customers the support and art environment they need.
See some examples of works by Sacha SOSNO available for sale
See the work of Sculptors and Monumental Art exhibited at the Estades Gallery