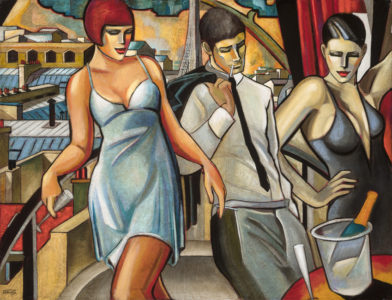 WHAT MICHEL ESTADES SAYS:
Stéphane Gisclard is an astonishing artist influenced by the Cubist movement, whose unique style reflects his exceptional mastery of light and shade. His paintings pay homage to women and lead us on a voyage into the Roaring Twenties, with an extremely contemporary twist.
BIOGRAPHY:
Originating from Béziers, Stéphane Gisclard, lives and works in the sunshine of the South of France. He comes from a long line of artists: his father was a painter, his mother worked in literature, his grandmother was a musician and painter and his uncle a musician. The family tradition naturally pushed him into a creative environment. He earned his spurs at the Ecole des Beaux-Arts (School of Fine Arts) in Paris before devoutly attending L'Atelier de la Grande Chaumière in 1986, where great names from the Art Deco movement had studied. Masters such as Cézanne, Braque, Léger and De Lempicka spurred the Cubist influences found in his geometrical paintings. Nonetheless, he maintained his own personality. His brief sojourn at an art restoration school in 1997 marked a u-turn in his career: he learnt about 18th and 19th century painting and discovered the ancient techniques that prompted him to evolve definitively from abstract to figurative painting.
His painting technique is inventive and he cleverly associates patinas, glazes and pigments to enhance his rich palette of iridescent ochres and flamboyant reds. The power and purity of his brushstrokes is somewhat reminiscent of the Art Deco period he cherishes so much. His unbridled imagination gives birth to oils on canvas and pastels, together with works created in collaboration with the renowned Enamels of Longwy. Stéphane Gisclard's work has been on permanent show at the four Galerie Estades galleries in Paris, Lyon, Toulon and Baden-Baden (Germany) since 2006. His canvasses are found in numerous collections in France, Germany, Russia, Italy, Belgium, Spain, England and the United States.
Stéphane Gisclard draws his inspiration from the seedy atmosphere of ports, buzzing cities, Belle Epoque cabarets and the rooftops of Paris. He never ceases to exalt woman, the eternal muse of his oeuvre, portrayed in all her sensuality. His female and male characters are raw and unpolished, their features frank and edgy and their eyes invariably closed.
Luxury, champagne, excited laughter and jazz music… Stéphane Gisclard's joyful work has its very own soundtrack. The artist paints intense atmospheres with relish, using large formats to better deploy his entire palette. Like a puzzle, each element of the painting fits snugly into the others. Although he is clearly influenced by the Roaring Twenties, the scenes he depicts are instilled with a timeless resonance.
See some examples of works by Stéphane GISCLARD available for sale
See the work of Modern Masters exhibited at the Estades Gallery