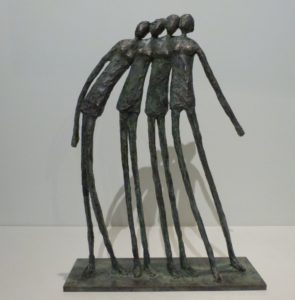 WHAT MICHEL ESTADES SAYS:
Along with Gérard Boudon, Sylvie Derely was one of the first sculptors represented by the Galerie Estades. Her long, slender lines are somewhat reminiscent of Giacometti, yet smoother and even more pared down. Alive with movement and emotion, her works are an ode to humanity.
Biography:
Sylvie Derely career
Sylvie Derely resides in Lille. She began her artistic career in the North of France in 1977.
Self-taught, she later attended the School of Fine Arts in Reims. At the beginning of the 1980s, she divided her time between watercolors and commissions as a textile designer.
Her inclination for wide-open space reminded her of her childhood in the north, and discovering acrylic paint allowed her to develop work on folding screens. The Accor group entrusted her with the decoration of the Novotel rooms for which she produces lithographs. In addition, she created giant frescoes on the facade of influential Parisian houses such as Guerlain, Renault, and Rochas. In the 1990s, she moved to the Lyon area and devoted herself entirely to sculpture. She perfected her style and technique at the Lyon Art Studio.
Sylvie Derely style
Since 2002, she is part of the Gallery Estades permanent collection and is featured in the four locations in Lyon, Paris, Toulon, and Baden-Baden. Sylvie Derely subtle style sculpts figures with slender bodies, and barely sketched faces.
She works in plaster that she fixes in successive layers on a metal frame, thus gradually elaborating shapes she models with her fingers and spatula.
The pieces are then sent and cast in bronze in a foundry. Family, love, friendship, and fellowship are her favorite themes. Sylvie Derely reveals a high sensitivity in her art, very feminine too, never threatening, and always touching. Her travels and companions inspire her and produce works that radiate life.
What Sylvie Derely's works tell us
Sometimes ethereal, sometimes seated, her figures kiss, hug, or hold each other's hand.
Their angular dimension stretches them in a fragile verticality, always in perfect balance.
They may be mothers, daughters, children with long arms and infinite legs traveling the world, and celebrating love.
Although the faces are devoid of features and the bodies oversimplified, they nevertheless reveal an authentic presence. Sylvie Derely mixes respect for academic style and compelling emotional instinct in her soft and harmonious curves endowed with intense energy. Sylvie looks at families with tenderness. Couples in a harmony that we imagine perhaps too recent to be broken by the daily setbacks that seem to end the complicity of the first moments. Elegant and graceful, her sculpture expresses high sensitivity and invites her to travel to a dreamlike and loving universe.
Sylvie Derely. Price of her artwork
Sylvie Derely. Estimate of her work
To determine the price of a bronze sculpture by Sylvie Derely or any other artist on the art market, art experts or auctioneers use a database and study the latest selling prices for similar works.
To estimate a work by an artist such , one will use various precise criteria:
Dimension
Condition
Uniqueness
Thème
Technique
Signature.
Added to each other, they will define the value of the work and the price at which it can be sold. A bronze sculpture Sylvie Derely sells between €2,500 and €35,000.
How to buy or sell an original work by artist Sylvie Derely?
Would you like to buy or sell a work Sylvie Derely ? you are in the right place.
Michel Estades is an expert on the works of Sylvie Derely, a reference art expert for this artist. Buying a sculpture by Sylvie Derely at Galerie Estades guarantees the authenticity and the quality of the work.
Sylvie Derely. Authentication
To authenticate your work, you can send us a request to estades1@gmail.com.
See some examples of works by Sylvie DERELY available for sale
See the work of Sculptors and Monumental Art exhibited at the Estades Gallery