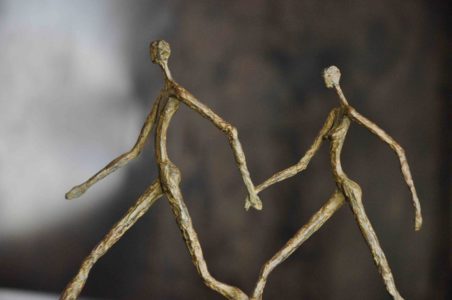 WHAT MICHEL ESTADES SAYS:
Sylvie Mangaud's airy sculptures transport us into a zen and harmonious universe. Her elegant creations are redolent with aesthetic balance and perfectly-captured movement. The sensuality and fluidity of her work seduces art buffs of all ages.
BIOGRAPHY:
Sylvie Mangaud is an artist with an atypical track record. Her photography and morphology studies allow her to capture the fine details of the body and seize the moment. She began her professional career as a photographer while continuing to draw and paint for pleasure. She took drawing classes at the Carrousel du Louvre and, on the advice of a friend, began studying sculpture in the late Nineties. Since then, Sylvie Mangaud has dedicated herself entirely to the discipline, never ceasing to perfect her technique. She works with wax on a metal frame, which she then casts in bronze. Her light, airy and delicate creations oscillate between power and fragility. Female nudes and animals immediately became her favourite playground. Her women have smooth faces and slim, elegant, highly expressive bodies. The postures of her animals – stags, horses, foxes, elephants and giraffes – are extraordinarily evocative.
Sylvie Mangaud lives in Paris and loves to escape to the countryside at weekends, where she walks and rides to recharge her batteries and study nature and animals in detail. Her work is an ode to the beauty of the living world. Sylvie Mangaud first and foremost seeks precision in the attitudes of her subjects, which she then interprets according to her inspiration. Armed with extensive experience in photography, she has a great talent for memorizing movement, capturing emotion and freezing the moment. Her airy and sensual sculptures are stylized while accurately portraying motion.
Sylvie Mangaud's evocative bronzes immortalize her favourite themes – Zen, Harmony, Malice, Libertine – and seduce at first sight. The artist enjoys playing with materials and alleviating them of any heaviness. She focuses primarily on the silhouettes of her nudes and animals and is guided by her creative instinct, even if it strays from the laws of nature, giving birth to slender, willowy creatures paying homage to femininity and nature. Sylvie Mangaud has also woven her airy magic into crystal pieces produced for the famous Maison Daum. A selection of her work has been permanently on show at the four Galerie Estades galleries in Paris, Lyon, Toulon and Baden-Baden (Germany) since 2014.
See some examples of works by Sylvie MANGAUD available for sale
See the work of Sculptors and Monumental Art exhibited at the Estades Gallery