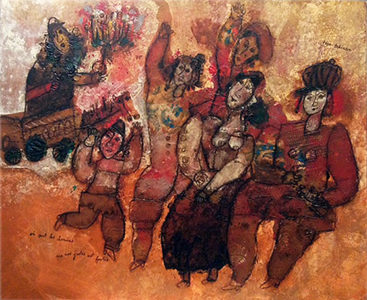 WHAT MICHEL ESTADES SAYS:
Théo Tobiasse is a major, internationally-renowned 20th-century artist. Throughout his career, his oeuvre never ceased to evoke his family story, marked by the tumultuous onward march of History. His work is truly moving.
Biography:
Théo Tobiasse youth
Theo Tobiasse was born in Jaffa, His parents came from Lithuania, hoping to find the Promised Land. Material difficulties soon forced the family to return to Lithuania and then leave for Paris in 1931, where his father, a typographer, found work in a Russian printing house. Theo Tobiasse showed an aptitude for drawing and painting very early on. During a visit to the 1937 World's Fair in Paris, he was amazed by Raoul Dufy "La Fée Électricité". The death of his mother in June 1939, followed by the outbreak of the Second World War, the wearing of the yellow star, and his rejection from the Ecole Nationale Supérieure des Arts Décoratifs turned his life upside down. For two years, his family was forced to live in hiding in an apartment in Paris, narrowly escaping the Velodrome d'Hiver round-up in July 1942. After the liberation, he became a graphic designer in Paris. In 1950, he obtained the French nationality and moved to Nice, where he continued his advertising career.
Théo Tobiasse. Provencal painter
He settled in Saint-Paul-de-Vence and discovered the fascinating lunar landscape of the Saint-Barnabé plateau near Col de Vence. It was his first painting. Self-taught, he studied the technique of the great masters in museums during his travels. His first paintings were exhibited at the Salon des Peintres du Sud-Est in 1960. In 1961 he won the Young Mediterranean Painting Prize, then the Dorothy-Gould Prize in 1961. He then decided to devote himself exclusively to the arts. Over the years, he had many international exhibitions in Paris, Geneva, Montreal, Tokyo, London, Kyiv, Los Angeles, and New York, which hosted his first solo exhibition in 1968.
Theo Tobiasse. The work of Theo Tobiasse
Theo Tobiasse's work is inspired by exile, motherly love, childhood memories in Lithuania, and the Bible. The celebration of the senses, color, music, and travel blend into a poetic magma against the backdrop of his favorite cities, Venice, New York, and Jerusalem. Words and phrases charged with emotion punctuate his work, not to explain it but to extend it. His oils on canvas, mixed techniques, lithographs, and drawings are sought after by many collectors. Théo Tobiasse has also created sculptures, stained glass, pottery, engravings, and monumental works. Since 2000, he has been permanently exhibited on the four sites of the Estades Gallery, in Paris, Lyon, Toulon, and Baden-Baden.
Théo Tobiasse, the price of the artist's works…
Buy or sell an artwork by Théo Tobiasse
Would you like to buy or sell a work Théo Tobiasse ? you are in the right place.
Michel Estades is an expert on the works of Théo Tobiasse, a reference art expert for this artist. Buying a painting by Théo Tobiasse (oil on canvas, lithography) at Galerie Estades guarantees the authenticity and the quality of the work.
Théo Tobiasse. Authentication
To authenticate your work, you can send us a request to estades1@gmail.com.
Théo Tobiasse. Appraisal of an artwork by Théo Tobiasse
An oil on canvas by Theo Tobiasse sells between €7,000 and €35,000.
See some examples of works by Théo TOBIASSE available for sale
See the work of Modern Masters exhibited at the Estades Gallery