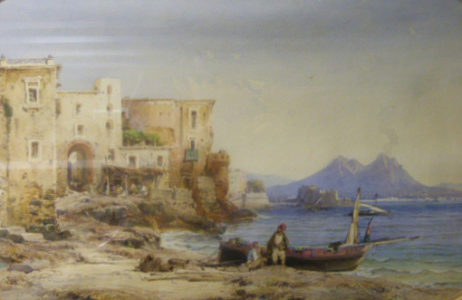 WHAT MICHEL ESTADES SAYS:
A passionate art dealer with 30 years' expertise, Michel Estades loves sharing his knowledge and enthusiasm for his favourite artists. His 4 galleries permanently exhibit many 20th and 21st-century figurative artists, including the world's greatest masters, masters from the Provencal and Lyon schools, modern and contemporary masters and a constant flow of talented new painters and sculptors.
BIOGRAPHY:
Vincent Courdouan started to study drawing at the age of twelve, with Pierre Letuaire.
Then he joined the School of Fine Arts in Toulon, where he learned engraving. He had the opportunity to move to Paris and to continue learning engraving techniques. He was introduced to oil painting in the studio of Paulin Guérin and met other artists such as Daubigny, Vernet, Gudin.
In 1844, he was awarded a gold medal for his watercolors at the Salon des Beaux-Arts.
He started to travel abroad, first to Italy and then to Algeria, which later inspired his many orientalist works. A large canvas titled "The fight of Romulus," which was a significant event for the French Navy, near Toulon earned him a Gold Medal at the Salon of 1848.
The following year, he was appointed professor at the School of Fine Arts in Toulon and Director of the local museum.
Throughout his life, he traveled a lot. He met Frédéric Mistral, with whom he became friends.
He died on December 8, 1893, in Toulon.
All his life, Vincent Courdouan remained devoted to an apparent naturalism, which did not exclude a decorative, or poetic, unpredictable arrangement inherited from the 18th century. He excelled in representing trees and rocks. His pastels earned him great notoriety justified by his technical virtuosity.
The Musée des Beaux-Arts de Toulon currently hosts the finest collection of his works. Others are located in the Toulon Naval Museum, the Hyères museum, the Musée de la Castre in Cannes, the museums of Nice, Draguignan, Béziers, Montpellier, Marseille, Dijon, and Narbonne.
See some examples of works by Vincent COURDOUAN available for sale
See the work of Masters of Provence exhibited at the Estades Gallery