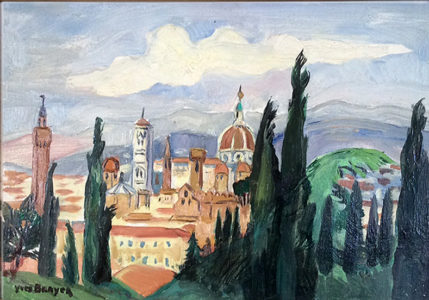 WHAT MICHEL ESTADES SAYS:
Gifted from early childhood and spurred on by his mother, Yves Brayer was an eclectic artist. A palette of many colours lights up his paintings. An avid traveller, his voyages throughout the globe provided an endless source of inspiration.
Biography:
Yves Brayer, the wanderer
Born in Versailles, Yves Brayer spent his early years in Bourges. His mother soon discovered he had a remarkable talent for drawing. She enrolled him at the Bourges School of Arts. In 1925, his father, an officer in the French army, was reassigned in Paris. Yves Brayer continued to draw and paint. He attended the academies of Montparnasse and La Grande Chaumière and graduated from Ecole des Beaux-Arts.
Encouraged by great artists such as Jean-Louis Forain and sculptor Robert Wlérick, Yves begins to exhibit his works at the Salon d'automne and the Salon des indépendants. In 1927, he received a government scholarship that enabled him to travel to Spain. There he discovered the Masters of the Prado Museum. Yves Brayer traveled to Morocco, Spain, and Italy, and ended up settling in Camargue and Provence, his two favorite places.
Yves Brayer. His style
Yves Brayer was very attached to the representation of reality and rejected the late 19th and early 20th centuries' artistic movements.
Richness and diversity distinguish his work. Yves Brayer is a painter, engraver, illustrator, and theatre decorator. He excels in watercolor as well as in oil painting, lithography, engraving, and drawing. Using a wide variety of techniques, he is the author of a lavish production of landscapes and large compositions, figures, and still lifes. Elected member of the Academy of Fine Arts in 1957, and Grand Prix de Rome, Yves Brayer is considered one of the masters of the École de Paris.
Yves Brayer. International breakthrough
After his Spanish black period, then ochre and red Italian period, the artist diversified his palette by introducing green, pale yellow, and blue. A great adventurer, he liked to capture the light and rhythms of the various countries he visited, and from which he brought back many drawings and watercolors. From 1963 on, his travels took him further away, to New York, exhibiting at the Wildenstein Gallery, and Mexico. Yves Brayer had a real passion for Provence's Mediterranean landscape, fascinated by its pure and wild nature. Inaugurated in September 1991, the Yves Brayer museum in Les Baux-de-Provence, hosts over a hundred oils, watercolors, and drawings. His work is part of the Estades Gallery's permanent collection since 1990 and is featured in the Gallery four locations in Paris, Lyon, Toulon, and Baden-Baden (Germany).
Yves Brayer. Price of a work by Yves Brayer
Yves Brayer's value
Yves Brayer made a name for himself and its value evolved. This concept can be difficult to understand, no matter the medium, painting, sculpture, drawing, or lithography. The price of an artwork can sometimes reach millions of euros. For a collector or an art buyer, such a difference in price can be surprising.
So how do you assess the real value of Yves Brayer? Price depends the artist's notoriety in the media and artistic circles, his contribution to art history, his originality, the recognition of his work by art experts, gallery owners, cultural institutions, the sale of his works in major auction houses, the uniqueness of the work, its date of creation, the material and style.
An oil on canvas by Yves Brayer sells between €5,000 and €22,000 euros, a watercolor between €3,000 and €7,000.
Yves Brayer. Buy or sell a work by Yves Brayer
You want to buy or sell a work by Yves Brayer? A few options are available.
you can buy or sell artwork for a good price at a public auction, by lots or series.
However, this process requires a serious commitment on your part.
Private sales between individuals allow for a more muted and confidential transaction with gallery owners and real art experts.
These specialists' expert eye and tailor-made advice will guide you to complete this exceptional purchase.
The Estades Gallery brings you the opportunity to acquire major works by Gérard Boudon, whether prints, drawings, signed lithographs, sculpture, or oils on canvas. Beyond buying and selling art, the gallery offers to advise and guide you in your art investment, whether you are an enthusiastic amateur or a dedicated collector.
Yves Brayer. Authenticate an artwork by Yves Brayer
Do you own a work signed by Yves Brayer? You can try to have it authenticated. Unfortunately, "signed" and "authenticated" do not necessarily add up because a signature can be reproduced.
Many artists, like Yves Brayer, have their signature forged. A certificate of authenticity is required to sell the work on the art market and get the best price. An expert specializing in the artists' work or a gallery owner needs to sign the certificate of authenticity.
Yves Brayer. Estimation of an artwork by Yves Brayer
To determine the price of an artwork by Yves Brayer, art experts or auctioneers use a database and study the latest selling prices for similar works. They examine a set of precise criteria. Work dimension, theme, medium, materials being used, the uniqueness of the work, and its state are significant factors determining the artwork price.
See some examples of works by Yves BRAYER available for sale
See the work of Modern Masters exhibited at the Estades Gallery